The Mists are Slowly Lifting on Midday Fogging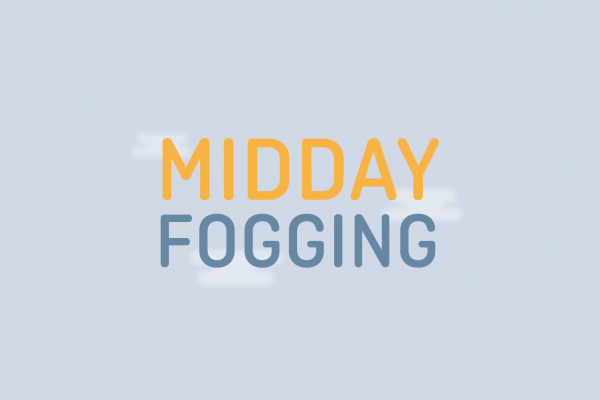 by Martin Conway
Growth in Scleral Lenses
The use of scleral lenses has grown exponentially over the past 15 years. Once confined to hospital practice, many practitioners have immersed themselves in this "new" modality and become experts at fitting even the most difficult of corneal ectasia and complex conditions.
Midday Fogging
One phenomenon which has impacted the fitting of these lenses has been Midday Fogging (MDF).
The post lens tear reservoir becomes gradually less clear until the patient's vision is affected and the lens needs to be removed, cleaned, rinsed and then re-inserted. This occurs normally around midday, hence the name, but, in extreme cases, can require the lenses to be removed several times during the day. This would not be tolerated by the patient with any other type of lens, but because scleral lenses give better comfort, vision and wearing times than other modalities, they tend to grin and bear it.
It has been estimated that MDF affects as many as 30% of wearers.
What Causes MDF?
I thought I would share the experiences that my colleague Mark Darling and I have had in reducing the incidence of MDF in our patients.
The origin of the contaminants found under the lens in MDF has been debated ever since the problem was first identified. Mucin, lipid and cellular debris have all been suggested as possible culprits, or even combinations of all three.
In a soon to be published paper, Maria Walker will confirm that lipids from the meibomian gland are the most probable source of the debris found under the lens in MDF. This ties in with our experience in practice.
Practical Experience
Once you master the basics, a novice scleral lens fitter can achieve good results for the patient with a far from perfect fit. So I would not wish to deter any practitioner who is thinking of starting to fit sclerals from doing so. Reflecting on my early fits, which were done without the aid of OCT, I was able to achieve good comfort and vision for patients, and with no detriment to their ocular health. 
Toric Periphery
As we built up the practice we began to notice MDF in some patients. On closer examination, many of them could have benefitted from a toric periphery, and when this was introduced, the problem resolved or was reduced to an acceptable level. 
This was not always the case, however, and we started to look further into the source of the problem.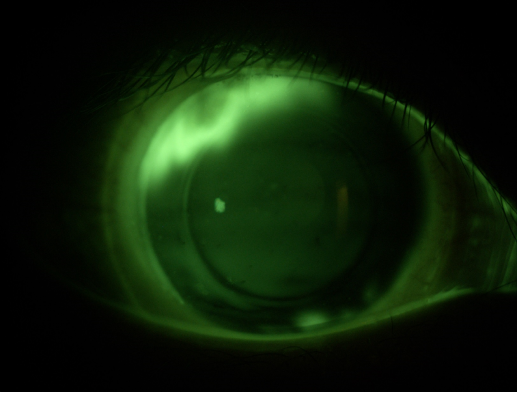 Fig 1. Fluorescein showing the need for a toric periphery with ingress at 110 degrees and beginning to show at 290 degrees.
Edge Lift
At the first follow up, with the lens in place for several hours, we started to instil fluorescein before we disturbed the lens. We saw that even the tiniest area of edge lift can be a source for contaminants to find their way under the lens and be distributed around the reservoir under the action of lid pressure on the lens.

Fig 2 & 3. Shows an insignificant high spot without fluorescein and with fluorescein.

Fig 4 & 5. Develops with the blink to become a flow of lipid to fill the reservoir.
If the patient was suffering from MDF, we would adjust the height of the lens, but in most patients, there was no issue and, providing everything else checked out, we would leave things alone.
Lid Issues
The next part of the puzzle was to establish why some patients would suffer, and others not.
In most of the affected patients, the lids were probable cause and therefore we could alleviate most of the MDF by addressing any lid issues prior to fitting. This delayed fitting but improved outcomes significantly.
In extreme cases, we insisted on a saline eyebath prior to lens insertion. Since we now insist on the patient sorting lid issues out with lid scrubs and hot compresses, we have found that the need for that is reducing.
Edge Modification
Speaking with Mark Darling's lab manager before writing this piece, I asked what percentage of the sclerals he made had a toric periphery. He said around 20%, but with practices working solely from a spherical fitting set, that number was around 5%.
I then looked at our numbers, and around 70% of patients had either a toric periphery or some other form of edge modification.
Our incidence of Midday Fogging is now less than 5%.
Reducing the Incidence of MDF
As mentioned, scleral lenses can produce improved vision and comfort for those patients who desperately seek a solution to long term ocular issues, even when a less than optimal fit is achieved. For practitioners wishing to build their practice and reduce the incidence of MDF, I offer the following advice:
Address any lid issues such as Meibomian Gland Dysfunction prior to fitting. Use OCT if available and if not, consider getting one.
Use a toric fitting set as well as a spherical.
At the first follow up use fluorescein prior to disturbing the lens to identify any high spots around the edge that might allow lipids to ingress into the post lens tear reservoir.
Speak to your lens manufacturer in order to raise or lower the edge in specific quadrants, or even within specific areas.
Conclusion
It has been estimated that it takes around 35 fits in order to become competent in scleral lens fitting, even for the previously experienced fitter. I would say that that figure would tie in with my experience, but with modern equipment and supportive laboratory consultants, the novice scleral fitter should be able to reduce that number significantly.
The contours of the edge are responsible for sealing the post lens tear reservoir off from possible contaminants and by refining our fitting techniques to include toric peripheries and quadrant specific designs we can reduce and maybe eliminate the issue.
For the more ambitious practice, we have highly sophisticated mapping instruments such as the Eaglet Eye, sMap 3D and EyePrint Pro, providing the possibility of a truly customised design, but for most of us, a simple fluorescein strip can indicate areas around the edge that need attention.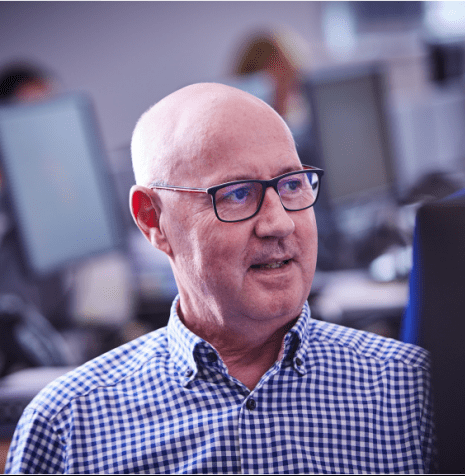 Martin Conway has over 40 years' experience in the contact lens field as a qualified Contact Lens Optician. He is registered with the UK General Optical Council on the Speciality Contact Lens Register. Martin is a fellow of the British Contact Lens Association (FBCLA), and The International Association of Contact Lens Educators (FIACLE). He has served in the Professional Services role as an educator and clinical adviser on behalf of both Sauflon and CIBA, and now acts as Professional Services Consultant for Contamac. Martin has lectured extensively in Europe, Asia, Russia, North and South America and the Middle East.