Carlos Mayoral – Key Account Manager, South America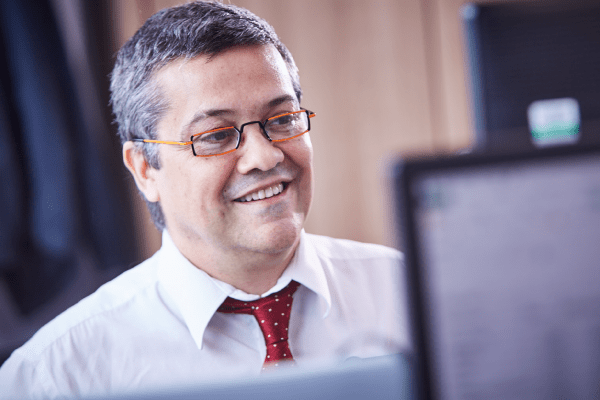 Please describe your role at Contamac:
As the Key Account Manager for Latin America, my responsibility is to look after my customers with their needs, whether in material, professional services or technical support.
Por favor describa su rol en Contamac:
Como gerente de ventas de America Latina, mi responsabilidad es asesorar a mis clientes con sus necesidades, sea en material, servicios profesionales y apoyo técnico.
What is your professional history?
After finishing my studies in business and marketing at Getulio Vargas University in Sao Paulo, Brazil, I came to England. Here I had my own Mediterranean food import business and then decided to enter the business world with Kodak and then later with Contamac, where I have been for the last 12 years.
¿Cuál es tu historia profesional?
Después de terminar mis estudios en business y marketing en la universidad Getulio Vargas de Sao Paulo, Brasil, me vine a Inglaterra. Aquí tuve mi propio negocio de importación de comida mediterránea y después resolví ingresar en el mundo empresarial con Kodak y luego después en Contamac, donde llevo ya 12 años.
What do you enjoy most about working at Contamac and our industry?
At first glance, our industry might seem a bit boring! After all, we are just manufacturing plastic blanks! But when you begin to see the complexity, not only in the manufacturing of a special polymer but also the knowledge that you have to obtain to better understand that industry, there is always a lot to learn: From eye health to the manufacturing of speciality lenses on lathes, co-branding and sales strategies. There's always a lot to learn! Having relationships with other cultures and understanding how they work is also a great challenge, which is only possible with direct contacts and many trips, which I love! And there is no better place to travel than in Latin America!
¿Qué es lo que más le gusta de trabajar en Contamac y nuestra industria?
A primera vista, nuestra industria podría parecer un poco aburrida! Son solo pastillas de plástico que producimos! Pero cuando empiezas a ver la complejidad, no solo de la fabricación de un polímero especial pero también el conocimiento que tienes que obtener para entender mejor esa industria, hay siempre mucho que aprender: De  la salud ocular hasta la fabricaciones de lentes en tornos, co-branding y estrategias de venta. Siempre mucho que aprender! Y el contacto con otras culturas y entender cómo funcionan también es un gran desafío, que solo es posible con contactos directos y muchas viajes, que me encantan! Y no hay lugar mejor para viajar que por América Latina!
Can you tell us about some of the projects you have been working on?
Co-branding is a very important part, both for Contamac and for our clients. So I am always in touch with my customers to find the best solutions for their needs to add value to their designs. With the launch of Optimum Infinite 180 Dk and Unisil Silicone Hydrogel this year, this co-branding work has been even more evident.
Amigos da Lente is a project that has already been in development in Brazil with a hospital in Sao Paulo for more than a year and is very rewarding because it helps the most disadvantaged population to obtain special contact lenses free of charge that otherwise would be impossible to get.
Class Workshops, a sub-product of Class Symposium, was extremely successful in Uruguay and we have already programmed others in several Latin American countries. Class Workshops create the platform for our customers to showcase their designs, giving hands-on education at a low cost.
And of course, the organization of Class Symposium 2019 in Argentina drove me crazy! 
¿Puede contarnos sobre algunos de los proyectos en los que ha estado trabajando?
Co-branding es una parte muy importante, tanto para Contamac como para nuestros clientes. Entonces siempre estoy en contacto con mis clientes  para encontrar las mejores soluciones para sus necesidades de añadir valor a sus diseños. Y con el lanzamiento este ano de Optimum Infinite DK180 y Unisil Silicone Hidrogel, este trabajo de co-branding quedo todavía más evidente.
Amigos da Lente es un proyecto que ya lleva más de un ano en desarrollo  en Brasil con un hospital en Sao Paulo y es muy gratificante pues con él se ayuda la población más carente a obtener lentes de contacto especiales que de otra manera no lo lograrían.
Class Workshop, un sub-producto de Class Symposium, tuvo  mucho éxito en Uruguay y ya tenemos programado otros en varios países de America Latina.
Y claro, la organización de Class Symposium en Argentina me está volviendo loco! Pero estoy seguro que será un gran éxito y con mucha diversión, como lo fue Class en Bogotá el año pasado.
Class 2019 has just finished, was it a success?
I can certainly say that Class 2019 was above anyone's expectations, beginning with mine! It was a huge leap from the first one.
Attendees feedback during the 3 day event telling us that they never ever had such high-quality educational event of speciality contact lens in Argentina, that they never saw such a spectrum of companies involved, even in other congresses in Latin America, and also praising the variety of workshops was touching, to say the least, as they were very grateful that the event was chosen to be held in Argentina. 
Sponsors feedback were also very good and positive and apparently, networking was second to none. Many already are very excited to participate and sponsor the next one! 
We had 678 participants from 27 different countries. Considering the economic and political situation at present in Argentina, Chile and Bolivia – countries that would bring the majority of participants – we were very pleased with the attendance. They were very eager to learn and absorb everything that was going on, with the traditional Latin passion!
Class 2019 acaba de terminar, ¿fue un éxito?
¡Sin duda puedo decir que Class 2019 superó las expectativas de todos, comenzando por la mía! Fue un gran salto desde el primer Class .
Los comentarios de los asistentes durante el evento de 3 días nos dijeron que nunca tuvieron un evento educativo de lentes de contacto especializados de tan alta calidad en Argentina, que nunca vieron un espectro de compañías tan variadas, incluso en otros congresos en América Latina, y también elogiaron la variedad de talleres. Personalmente fue conmovedor, por decir lo menos, ya que estaban muy agradecidos de que el evento fuera elegido para realizarse en Argentina.
Los comentarios de los patrocinadores también fueron muy buenos y positivos y, aparentemente, el network fue insuperable. ¡Muchos ya están dispuestos a participar y patrocinar en el próximo!
Tuvimos 678 participantes de 27 países diferentes. Teniendo en cuenta la situación económica y política actual en Argentina, Chile y Bolivia, países que atraerían a la mayoría de los participantes, quedamos muy satisfechos con la asistencia. Estaban muy ansiosos por aprender y absorber todo lo que estaba sucediendo, ¡con la tradicional pasión latina!
What were some of the highlights of Class 2019?
There were too many to mention! 
As a conference with speakers of a high level and standard, a variety of companies in the exhibition hall and also 40 workshops with all the latest designs and technology, Class 2019 attracted huge interest and participation. 
If I can summarise in a few words, it would be "the best networking opportunity for the industry" not only for companies and exhibitors but for professionals to meet their peers and exchange their knowledge of visual health.
Educationally, Class was a step in the right direction and the new slogan for Class, Educar para el Futuro (Educate for the Future) made even more sense. We, as an industry need to make our utmost to bring education to those who don't have much accessibility. Simultaneous translation to Spanish, affordable entrance prices and variety of exhibitors and workshops is definitely the winning formula to keep Class growing strong. But let's not forget the human side!  Congresses in Latin America are also fun, people are kind, eager to learn, grateful and like to welcome and make you feel at home. It is a phenomenal personal experience.
I am looking forward to Class 2020 Colombia! The venue will be decided shortly and should be announced at GSLS in Las Vegas. Adelante!
¿Cuáles fueron algunos de los aspectos más destacados de Class 2019?
¡Son demasiados para mencionar!
Como una conferencia con oradores de alto nivel y estándar, una variedad de empresas en la sala de exposiciones y también 40 talleres con los últimos diseños y tecnología, Class 2019 atrajo un gran interés y participación.
Si puedo resumir en pocas palabras, sería "la mejor oportunidad de establecer contactos para la industria" no solo para las empresas y los expositores, sino también para que los profesionales conozcan a sus pares e intercambien sus conocimientos sobre salud visual.
Educativamente, Class fue un paso en la dirección correcta y el nuevo eslogan para Class, Educar para el Futuro tuvo aún más sentido. Nosotros, como industria, debemos hacer todo lo posible para brindar educación a aquellos que no tienen mucha accesibilidad. La traducción simultánea al español, los precios de entrada asequibles y la variedad de expositores y talleres es definitivamente la fórmula ganadora para mantener Class creciendo fuerte. ¡Pero no olvidemos el lado humano! Los congresos en América Latina también son divertidos, las personas son amables, ansiosas de aprender, agradecidas y les da la bienvenida y te hacen sentir como en casa. Es una experiencia personal fenomenal.
¡Espero con ansias  Class 2020 Colombia! El lugar se decidirá en breve y se anunciará en GSLS en Las Vegas. Adelante!
If you were shipwrecked on a deserted island, but all your human needs—such as food and water—were taken care of, what two items would you want to have with you? 
A telescope to see the stars at night and Lola, my dog, to keep me company.
Si naufragara en una isla desierta, pero todas sus necesidades humanas —como comida y agua— fueran atendidas, ¿qué dos artículos desearía tener con usted?
Un telescopio para ver las estrellas por la noche y Lola, mi perrita, para hacerme compañía.