Mark Eddleston – Project Leader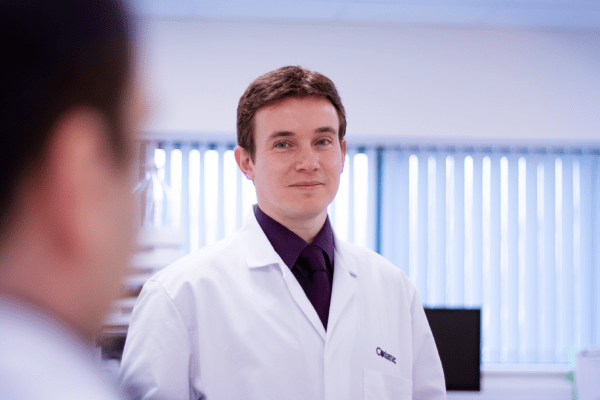 Please describe your role at Contamac:
As a project leader within the R&D team at Contamac I am heavily focussed on developing new contact lens materials. My role typically comprises taking a concept for a material that will bring benefits for patients and converting this idea into a finished product.
I'm very lucky in that I get to be involved in many different activities within the product development process from strategic planning, through to polymer formulation design, process optimisation and analytical testing, and ultimately to overseeing regulatory submissions.
What is your professional history?
Prior to joining Contamac, I worked for over a decade within the healthcare sector applying my chemistry training in various industrial and academic settings. Selected highlights include developing new medical devices while working at AstraZeneca, including the asthma medication Symbicort pMDI, and completing a PhD and several fascinating research projects at the University of Cambridge.
What do you enjoy most about working at Contamac and our industry?
Contamac has a strong commitment to provide the best possible products, both for contact lens wearers and for the lens manufacturers who turn our materials into finished lenses. There is a drive within the company to innovate and develop new materials, which is inspiring to be part of and has already led to me being responsible for three successful FDA submissions.
As an R&D chemist, working in the contact lens industry is something that I find hugely rewarding as it gives me the opportunity to develop products which will have a positive impact on the lives of patients.
Can you tell us about some of the projects you have been working on?
I have largely specialised in GP materials during my time at Contamac, and by far the biggest undertaking to date has been the development of Optimum Infinite. This was a very exciting project being the first hyper Dk material that Contamac has produced and also a product designed to be ideally suited for scleral and ortho-k modalities, which are currently seeing huge growth in the marketplace.
The factors which make Optimum Infinite unique are the flexural modulus of 1341 MPa, which results in this material being among the most rigid of the contact lens polymers, and the oxygen permeability of 180 barrer, which results in more oxygen being transmitted to the cornea when compared to a variety of other popular GP materials. This potentially brings significant eye health benefits, particularly for patients with compromised corneas or wherever thicker lens designs are used.
These properties are combined with excellent wettability and lathability. Overall this has resulted in a lot of positive interest in Optimum Infinite within the contact lens industry.
What do you predict to be the next innovation in contact lens materials? 
The innovation that I would most like to see most, not just for contact lenses, but for plastics in general, would be a new way of introducing biodegradability. This is a serious challenge as plastic materials need to remain stable for a long period of time, years in the case of a GP contact lens, but if they could be engineered in such a way that at the end of their useful life they could be collected and subjected to a simple treatment (such as heating to high temperature) to render them biodegradable, the environmental benefits would be astronomical.
If you were shipwrecked on a deserted island, but all your human needs—such as food and water—were taken care of, what two items would you want to have with you? 
I would say my wife and kids, but firstly, I'm not sure that they would appreciate being classed as 'items' and secondly, I would have to pick two from three, which could only end badly!
Being a practical person I would have to go for useful items, and as I tend to find life is far more enjoyable when I'm well slept, I would choose a comfy bed, and to go with it, a top of the range mosquito net to keep the creepy crawlies out!