Marty's Contamac Years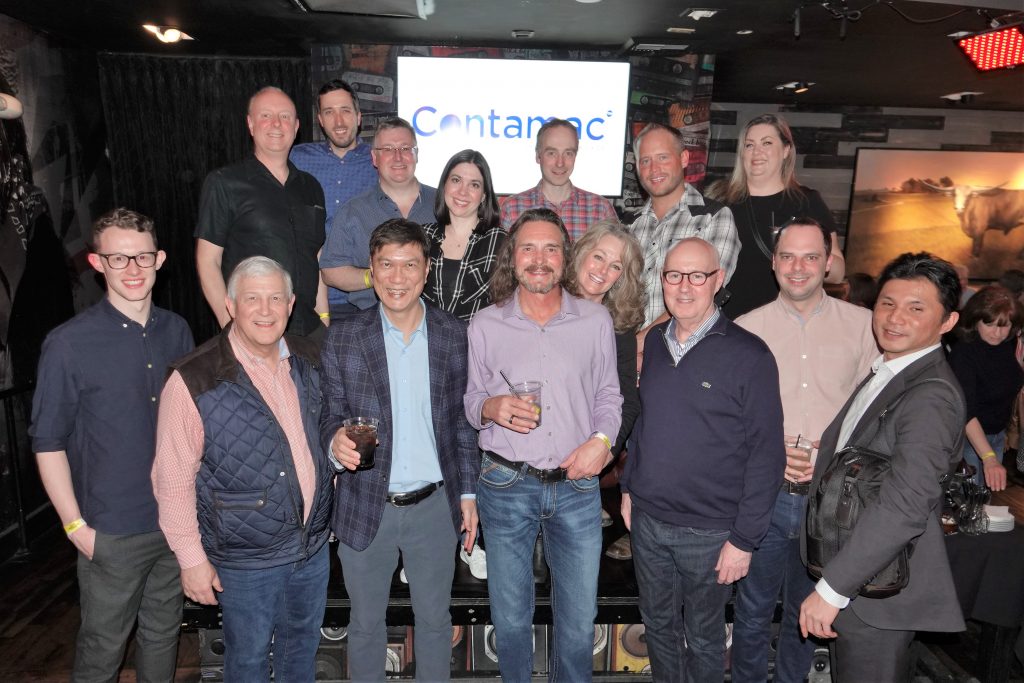 At the end of March 2020, Marty Dalsing, Contamac's US President retired with his wife, Deanna. We look back on Marty's Contamac Years.
How did it all start?
I was already in the contact lens industry as a private FDA regulatory consultant when my personal career was propelled to the next level. By coincidence, back in 2000, I approached Rob and John McGregor at Contamac with a regulatory and commercial strategy plan to enter the United States marketplace. It was the first time we met, through a mutual business colleague Mr John Neale. I didn't know at the time, but Contamac was already developing the strategy to enter into the US marketplace, they were just missing a couple of pieces… and the rest is history as they say.
Still to this day, I hold the original 'key' to the doors of Contamac US, Inc. in Grand Junction Colorado, which was strategically formed in 2001 to serve the North American contact lens market. The challenge of entering the USA as the 7th supplier to the speciality lens materials industry was never questioned. However, in the beginning, several industry professionals asked me a rather profound question of "why another supplier?" 
That's how and where it all started!
My primary role within the company was to help position the company as a global player. Ensuring the business is discussed in the same breath as multinationals, and foremost to develop lasting business partnerships and relationships with all within the industry. 
How much has the company evolved while you've worked here?
In 2000, only a handful of industry professionals in the US had ever heard of Contamac. 
Fast forward to 2020; Contamac is recognized as the world's largest manufacturer of speciality contact lens materials.
Now, 5X more employees work at Contamac and the current facilities are not only purpose-built, but the footprint has also increased 10X.
Thousands of industry professionals, including several key opinion leaders visit the Contamac UK manufacturing facilities annually. 
What are some of the most interesting projects you've been a part of?
Obtaining FDA approval for Contamac nine times was very interesting. One of those projects was Optimum, Contamac's signature material in the specialty lens industry. 
The project taking the position as the most interesting was Nutrifill. The endeavour into the contact lens solutions business has proven to be very successful and can only be attributed to the team effort required of the project. The Nutrifill project afforded me the opportunity to work alongside industry veterans who only know how to win.
What have been some of your Contamac highlights?
Happily working 20 years for one company can, and should, generate several highlights in a person's career. I will name a few that come to mind, but there are so many:
Being a part of positioning Contamac with the status it is recognized with today
To be involved in the conceptualization and formation of Contamac Solutions in the USA is a very memorable and successful highlight of my career at Contamac
Becoming top sponsor at GSLS
Launching the Optimum family of GP materials
Having a great US team!
Entertaining and dining with customers & colleagues within the industry 
Becoming a 'true' Man United life-time fan!
Holding a company board meeting in a Colorado Rocky Mtn. wilderness at 12,000 feet.
What will you miss the most?
Closing the bars with Rob McGregor
The Contamac family
Having a UK night out ending at the local curry house
My customers and the comradery developed
What are your retirement plans?
It's common (in the USA) to hear retiree's (husband and wife) setting off to travel and explore America in some type of a motorhome with Jeep in tow. My wife, Deanna, and I aspire to do just that, part-time. In fact, we've recently acquired the motorhome & Jeep and are now becoming familiar will all 'that' brings to life and mapping our first adventure… hopefully close to home!  We're both extremely excited to start our next chapter in life, whilst we're still healthy.  
Not sounding funny, but our main plans are to really focus on the best things that could happen to us in retirement, and that's what we're doing!
Closing words from Marty:
Above all, I really want to thank everybody within the industry that's supported and believed in me over the years, and I am extremely grateful that I and my wife Deanna had the opportunity to bring Contamac into the USA.
With the support of the Contamac family, contact lens manufacturers and eye care professionals in the industry, the USA endeavour was a great success. To be part of this growth will forever be one of my greatest accomplishments. Through much hard work and years of tenacity, the US market has become an important wheel in Contamac' business. I personally owe my success, and the USA success, to the steady support of the McGregor family and everyone within Contamac who has supported them and the USA business. Working together, deep friendships have been formed and there were no hurdles we as a company couldn't overcome. The memories will never be forgotten, and on my retirement, I will truly miss all that is a part of the Contamac family.
Cheers  ~ Marty
---
We are sincerely thankful for all Marty has done for Contamac throughout the years. His passion and dedication is admirable and truly appreciated. Contamac wishes Marty and Deanna all the very best in their retirement.