Maximising Oxygen in a Post PKP Patient
by Steven Sorkin, OD, FSLS
Patient History
A new patient was referred for specialty contact lens evaluation by his corneal surgeon.
The patient is a 61-year-old male who has a complex ocular past history. He has a history of ocular trauma to the right eye approximately 5 years prior. A wood-based foreign body had caused a corneal ulcer and subsequent dense corneal scarring which necessitated a full-thickness penetrating keratoplasty 6 months after the original injury. One year later he required cataract surgery in that eye. He subsequently developed a full-thickness macular hole in the previously normal left eye leaving him with 20/400 best corrected acuity in the left eye. Being monocular at this point, corneal GP lenses and hybrids were tried with poor success. He was referred to me for scleral lens evaluation.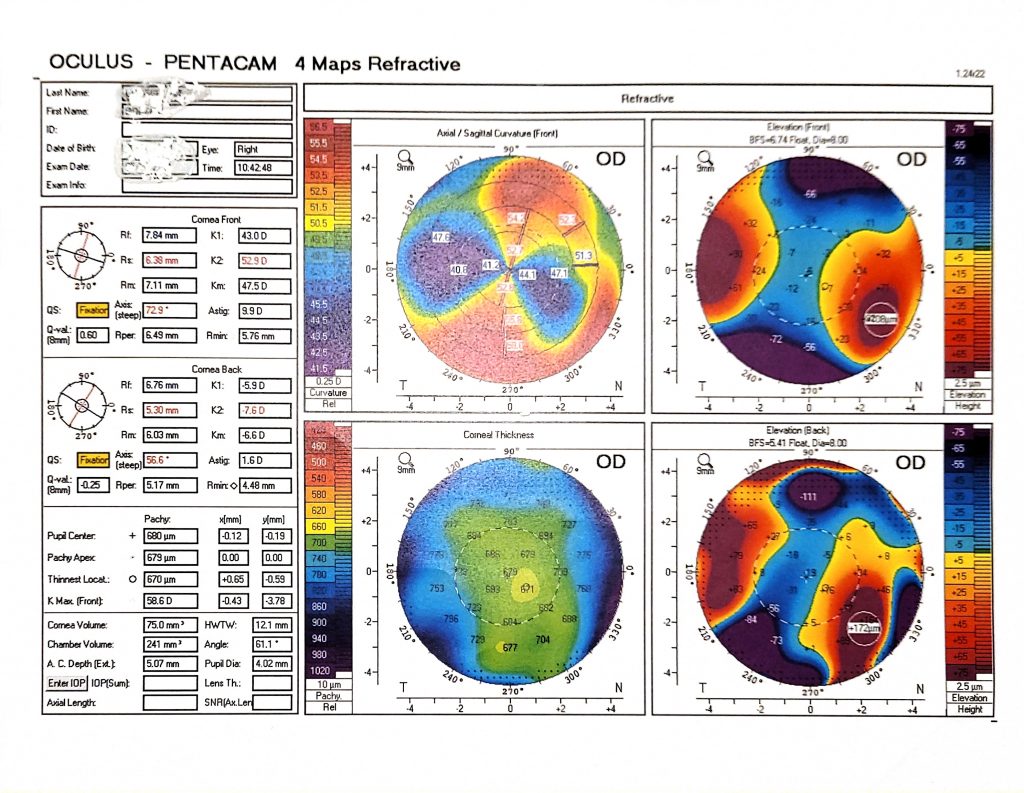 Evaluation
Entering uncorrected visual acuities were counting fingers in both eyes.
Refraction in the right eye was -6.00 +7.00 x 075 20/50. The left eye did not improve past 20/400.
Baseline pachymetry was 650 microns in the right eye.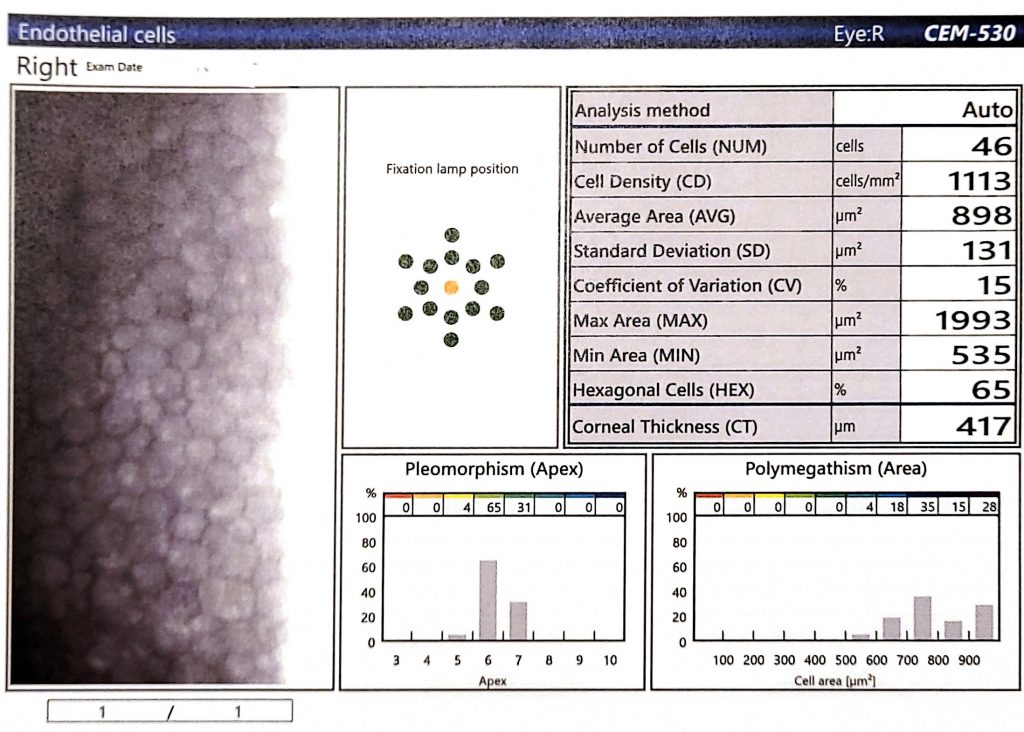 Specular microscopy was 1113 cells/mm squared with good CV and HEX values.
K's were 42.50/52.12 M 070 in the right eye.
Goldmann tonometry was 14/15.
Anterior segment evaluation of the right eye showed a healthy full-thickness PKP. No microcystic edema, corneal staining or keratic precipitates were observed.
Retinal exam was unremarkable in the right eye with no maculopathy.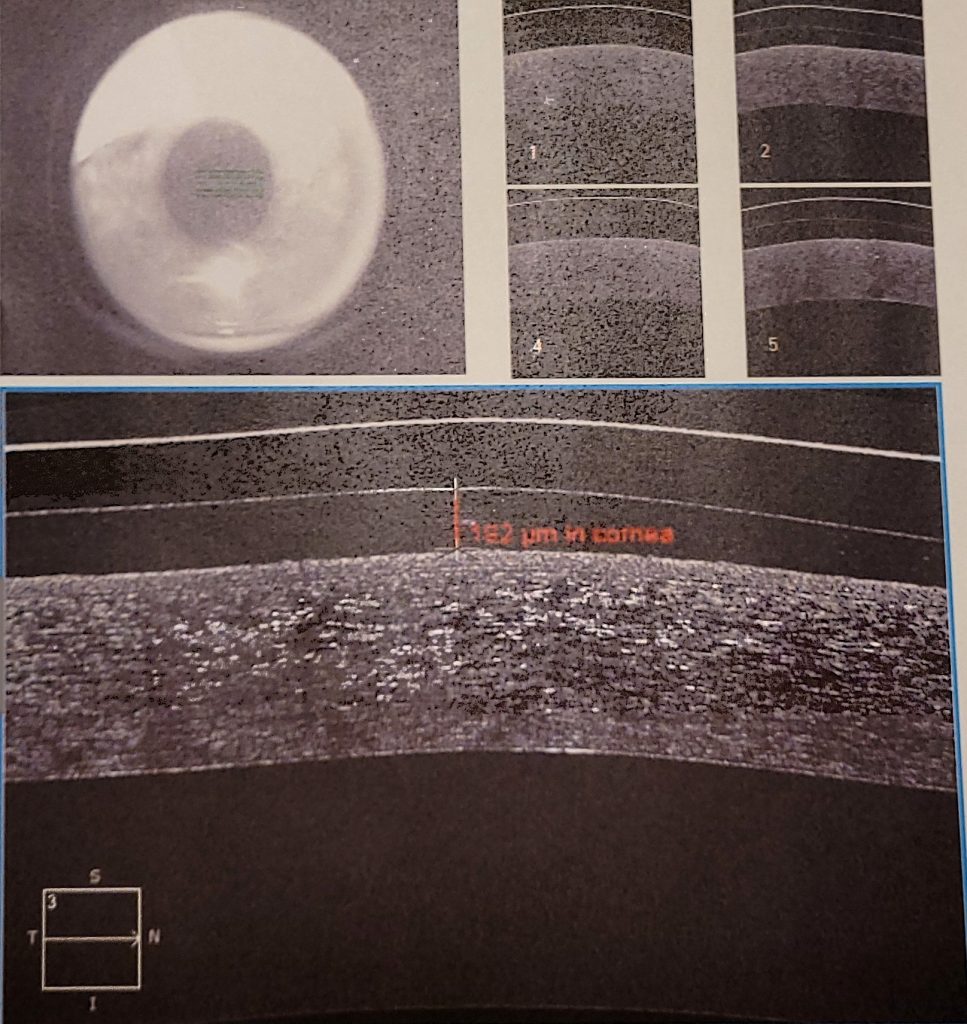 Scleral Lens Fit
A detailed discussion with the patient regarding risks and benefits of contact lens wear occurred at the consult visit. After this discussion, we commenced with a diagnostic scleral lens fit. The diagnostic lens had 296 microns of clearance after 30 mins of settling. Over refraction improved his visual acuity to 20/25-.
A lens was ordered for the patient in the following parameters:
Blanchard One Fit Med
OD central vault 5050/ Rx -5.00/ M-50/L STD/ EDGE +150/+75/Diameter 15.6/ CT 0.24
I ordered the lens in Optimum Infinite material to maximise the oxygen permeability in this post graft patient.
At the dispense visit, central vault was 192 microns and overall lens fit was acceptable. Edge configuration was good without edge lift or blanching. Visual acuity was 20/25- and the patient was very pleased with comfort as well.
Follow Up Visit
At the one week follow up visit, the patient was very happy with the lens. The fitting evaluation was excellent with a final central vault of 150 microns after 6 hours of wearing time. The mid-peripheral fitting relationship was also good with no touch. No distress to the corneal transplant was noted. Central corneal thickness was noted at 665 microns, a nominal increase from baseline. No further lens adjustments were needed. The patient can wear his lens greater than 12 hours per day. A six-month evaluation also showed no change.
We are following him every three months to monitor his corneal transplant and perform sequential pachymetry, specular microscopy and topographies to watch for any adverse effects or complications going forward. For this patient, utilising a hyper Dk lens material and minimising lens thickness, along with a proper fitting lens improved the quality of vision in this monocular patient that has a challenging ocular history.
Thank you to Steven Sorkin, OD, FSLS for contributing to Global Insight.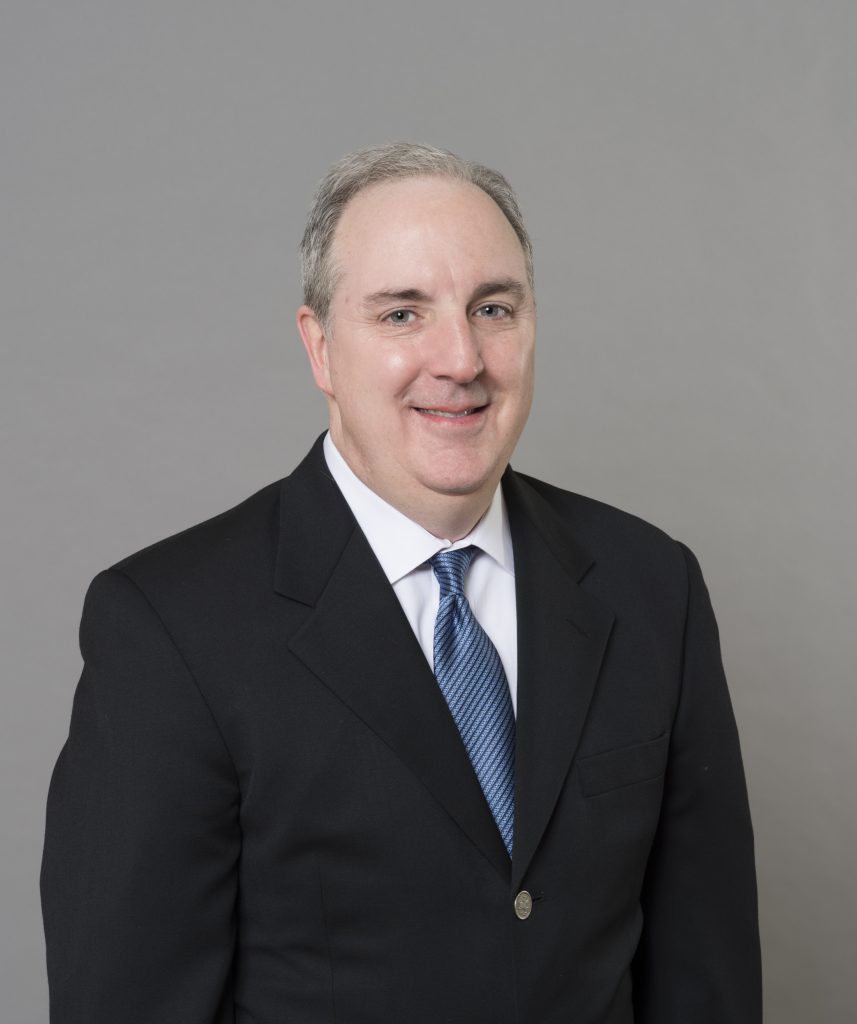 Dr. Sorkin serves as the Director of Specialty Contact Lens Services at Corneal Associates of New Jersey in Fairfield, New Jersey. He earned his Doctor of Optometry degree from the State University of New York College of Optometry. He lectures extensively throughout the United States and internationally on contact lenses, dry eyes, ocular therapeutics and corneal diseases. He has a special interest in difficult to fit contact lens patients, such as those with keratoconus and post surgical cases and manages many patients with complex anterior segment conditions. He participates in many contact lens related studies. Dr. Sorkin currently serves as President of the Essex County Optometric Society and is a  member of the Board of Directors of the New Jersey Society of Optometric Physicians.  He is also a Fellow of the Scleral Lens Education Society and is adjunct faculty at Salus University. He was named New Jersey Optometrist of the Year by NJSOP in 2018.