Class 2021 – Online
By Reece Hughes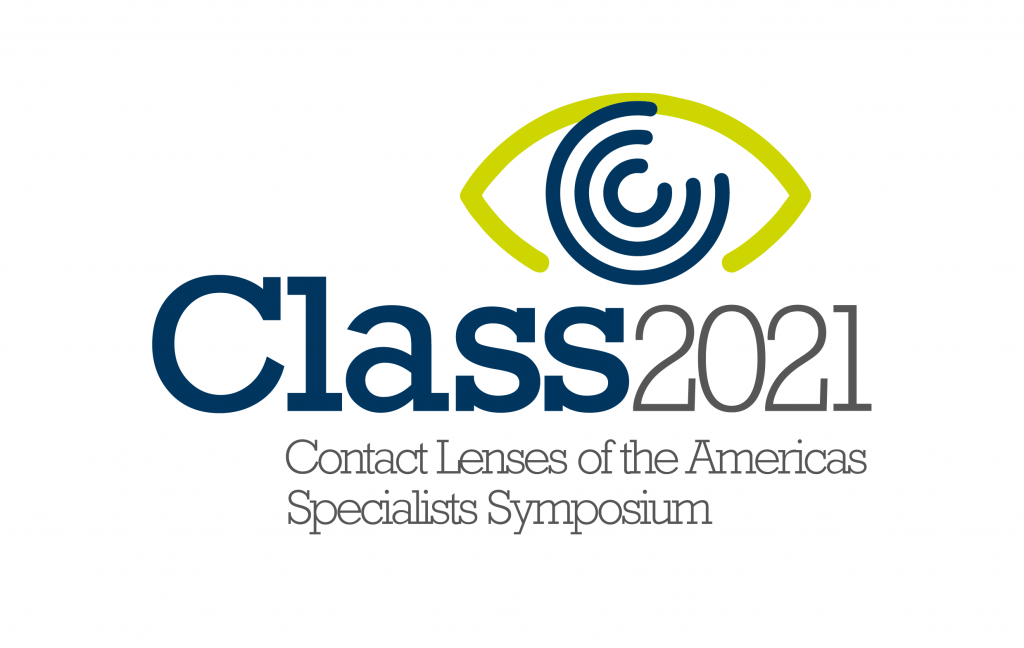 Class – 'Contact Lenses of the Americas Specialist Symposium' – is an initiative led by Carlos Mayoral (Key Account Manager – Latin America) whose vision was to bring world-class specialty contact lens education to Latin America in an inclusive and accessible format.  Class was launched as an educational conference, first held in Bogota, Colombia in 2018, and then Buenos Aires, Argentina in 2019.
"Having the event with simultaneous translation enabled us to make the latest knowledge available and accessible to a market which is eager to develop and learn more."

– Carlos Mayoral, 2018
Both conferences proved extremely successful, with more than 1,500 local participants across the two events, complemented by many international sponsors, speakers and exhibitors.  With everything planned for Class 2020 to take place again in Colombia, the Covid-19 Pandemic called for us to adapt the event.  It was not possible to travel and hold a physical conference, so instead, we introduced 'Class Online'.
"Whilst physical congresses remain unfeasible, we will continue to keep the specialist contact lens community together, offering free education and bringing more countries and companies on board."

– Carlos Mayoral, 2020
We were blown away by the support of our sponsors and speakers. They helped us to deliver an extremely successful specialty contact lens event, with more than 140 presentations in English, Spanish and Portuguese.  We were very proud of the reception received for Class 2020 Online, which brought together more than 40,000 participants from over 120 countries.  A far greater reach than initially expected!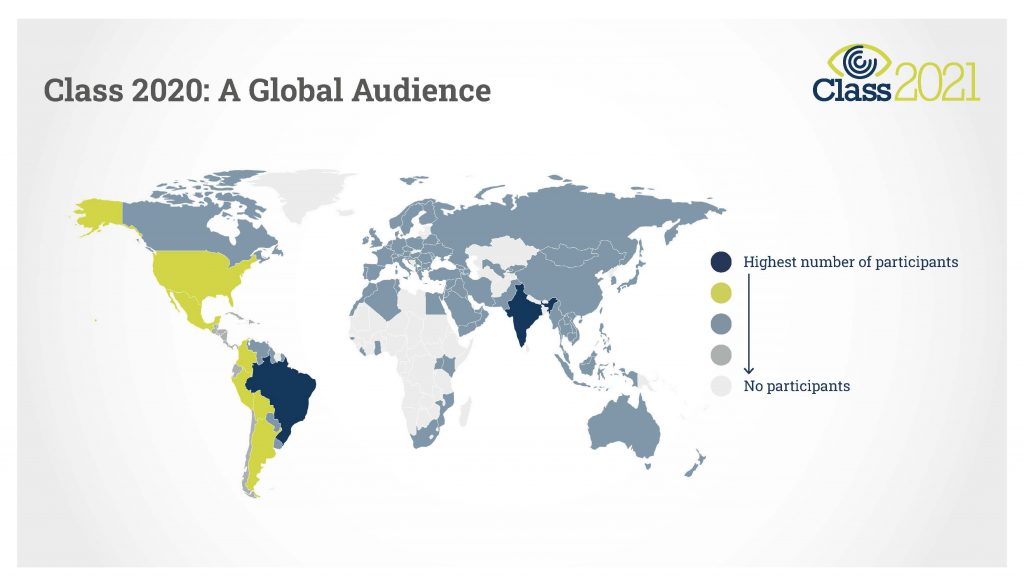 We are still living in very challenging times, with the Pandemic continuing to affect so many lives worldwide.  As such, we felt it was not suitable to hold a physical conference this year.  So, following the success of Class 2020 Online, we believed that there was an opportunity to grow our audience from last year, and deliver another virtual conference – this time with a more Global program.
I am personally very delighted to welcome new speakers to the Class 2021 program from the United Kingdom, Russia, India and China.  In total there will be more than 200 presentations in a variety of languages, including English, Spanish, Portuguese, Russian, Chinese and Arabic. Class 2021 will bring the latest and most comprehensive information on specialty contact lenses, not only to the Latin American audience but to a global audience.
Another addition to this year's program is that of Academy talks. We have partnered with Academic Institutions from around the world that have provided extensive talks on specialty contact lens education, as well as information on their associations and how they can support practitioners in their regions.
At Contamac, we are all very excited to launch this 4-week educational marathon to the world – during which we hope to provide valuable, insightful and contemporary education and information to the industry.  In such a difficult time, both personally and professionally, this is an opportunity for us all to come together and share knowledge across countries, languages and cultures.
I'd like to raise a physical glass to virtual success!  And hope to see all of you soon!
Find out more:
Visite Class Online en Español
---
Class – "Contact Lenses of the Americas Specialist Symposium" – es una iniciativa liderada por Carlos Mayoral (Key Account Manager – Latin America) cuya visión era llevar a América Latina la educación sobre lentes de contacto especiales de clase mundial en un formato inclusivo y accesible. "Class" se lanzó como una conferencia educativa, que se llevó a cabo primero en Bogotá  (Colombia) en 2018, y luego en Buenos Aires (Argentina) en 2019.
"Tener el evento con traducción simultánea nos permitió tener acceso y poner los conocimientos más recientes a disposición de un mercado ansioso por desarrollarse y aprender más".

– Carlos Mayoral, 2018
Ambas conferencias tuvieron un gran éxito, con más de 1.500 participantes locales en los dos eventos, complementados por muchos patrocinadores, ponentes y expositores internacionales. Con todo lo planeado para que Class 2020 volviera a tener lugar en Colombia, la Pandemia Covid-19 nos obligó a adaptar el evento. No era posible viajar y celebrar una conferencia física, por lo que introdujimos "Class Online".
"Si bien los congresos físicos siguen siendo inviables, seguiremos manteniendo unida a la comunidad de especialistas en lentes de contacto, ofreciendo educación gratuita y atrayendo a más países y empresas".

– Carlos Mayoral, 2020
Quedamos impresionados por el apoyo de nuestros patrocinadores y ponentes. Nos ayudaron a ofrecer un evento de lentes de contacto especiales extremadamente exitoso, con más de 140 presentaciones en inglés, español y portugués. Estamos muy orgullosos de la participación recibida en Class 2020 Online, que reunió a más de 40.000 participantes de más de 120 países. ¡Un alcance mucho mayor del esperado inicialmente!
Todavía vivimos tiempos muy difíciles con la pandemia que sigue afectando a tantas vidas en todo el mundo. Como tal, sentimos que tampoco era adecuado realizar una conferencia física este año. Entonces, tras el éxito de Class 2020 Online, creímos que había una oportunidad de hacer crecer nuestra audiencia del año pasado y ofrecer otra conferencia virtual, esta vez con un programa más global.
Personalmente, estoy encantado de dar la bienvenida al programa de Class 2021 a nuevos ponentes del Reino Unido, Rusia, India y China. En total, habrá más de 200 presentaciones en una variedad de idiomas, incluyendo inglés, español, portugués, ruso, chino y árabe. Class 2021 traerá la información más reciente y completa sobre lentes de contacto especiales, no sólo a la audiencia latinoamericana, sino a una audiencia global.
Otra novedad del programa de este año son las charlas de Academia. Nos hemos asociado con instituciones académicas de todo el mundo que han brindado charlas extensas sobre educación especializada en lentes de contacto, así como información sobre sus asociaciones y cómo pueden apoyar a los profesionales en sus regions.
En Contamac, estamos muy emocionados de lanzar este maratón educativo de 4 semanas al mundo, durante el cual esperamos brindar educación e información valiosa, perspicaz y contemporánea a la industria. En un momento tan difícil, tanto personal como profesionalmente, ésta es una oportunidad para que todos nos unamos y compartamos conocimientos entre países, idiomas y culturas.
¡Me gustaría levantar un vaso físico hacia el éxito virtual! ¡Y espero verlos a todos pronto!
Saber más: