A False Dawn for GPs
by Martin Conway
GP lens manufacturers have received a welcome boost to their business over the past decade or so that might seem to contradict the forecast made some years ago that the industry was destined for the history books.
The industry has received life-saving shots in the arm that have arrived in the forms of a renaissance of interest in scleral lenses and a burgeoning interest in the use of orthokeratology as a means of slowing the progression of myopia in children.
We should not rest on our laurels however, these new developments are welcome, especially as they are more profitable for both laboratories and the profession. But they may well mask the fact that the bedrock of the GP category is its corneal lens business and this sector is in slow decline. The reason that it is slow is that the average GP wearer stays in their lenses longer than the average soft lens wearer.
A large proportion of the average lab's corneal lens business consists of replacement lenses. This has been built up over the years and is fundamental to the continuation of the sector. Even GP wearers eventually disappear over time, and ultimately this source of routine replacement business will also dry up if it is not replenished.
Evolution is Inevitable
If we take the view that evolution is inevitable and this modality has had its day, then Nathan Efron's¹ obituary for the sector was probably justified. Certainly, many of his prophecies have come to pass, but rather like climate change, we may still have time to change things.
Most of the 10 reasons he provided in his obituary are beyond the scope of the average laboratory to be able to remedy. The extensive advertising of the soft lens industry, the improvement in their designs and availability of parameters have all taken away potential GP wearers and smaller labs cannot compete on that scale of investment.
The Dreaded Drop Out Rate
Despite its multi-million dollar development budgets and even bigger marketing budgets, the moulded soft lens manufacturers are still dogged by the curse of the dreaded drop-out rate. Around 25% of wearers drop out of their products every year – so the product is clearly falling short somewhere along the way! It is only the presence of the aforementioned multi-million dollar marketing spend that pours new wearers into the leaking bucket every year.
Going back to the typical GP wearer – once over the initial hurdle of adaptation, they will stay in the product sometimes for decades, they will get better vision, have a lower cost to their wear and will also get better results when it comes time to transition into some form of correction for presbyopia. But this message doesn't seem to resonate with practitioners. It is all too easy to supply a box off the shelf and then hope they don't migrate to the Internet. Even when a soft lens drop-out presents to the practitioner, they are more likely to try another moulded lens rather than suggest a GP lens.
The Comfort Issue
Initial comfort has always been the barrier that a patient must overcome in order to reap the long term benefits of GP wear outlined above. If, this barrier could be lowered or even removed, then maybe new wearers could be added to the GP wearing population in sufficient numbers to not only balance those ageing wearers but even grow the total for the future!
Development in Modalities
When we look at the amount of development and improvement that has taken place in orthokeratology and scleral designs over the past decade or so, we see that most of that has taken place in smaller labs – not multinationals. It is not fair to say that the industry is incapable of creativity and design innovation. Current market-leading scleral and ortho-k designs may now be owned by multinationals, but they owe their genesis to individual labs working with practitioners to grow this sector of the industry in response to a clear need for products to better serve patient's needs.
If this experience and entrepreneurial skill is now turned towards corneal gas permeable designs, can we overcome the initial comfort issue?
According to some, the answer to that is a resounding yes.
Old Technologies
In a straw poll I conducted recently, most labs were using the same corneal lens designs that they were using 20-30 years ago. Originally these lenses were around 9.00mm diameter in order to permit movement and enable the tear pump to operate. Modern materials are no longer dependent upon this action, more than sufficient oxygen can flow through the material to meet the cornea's need.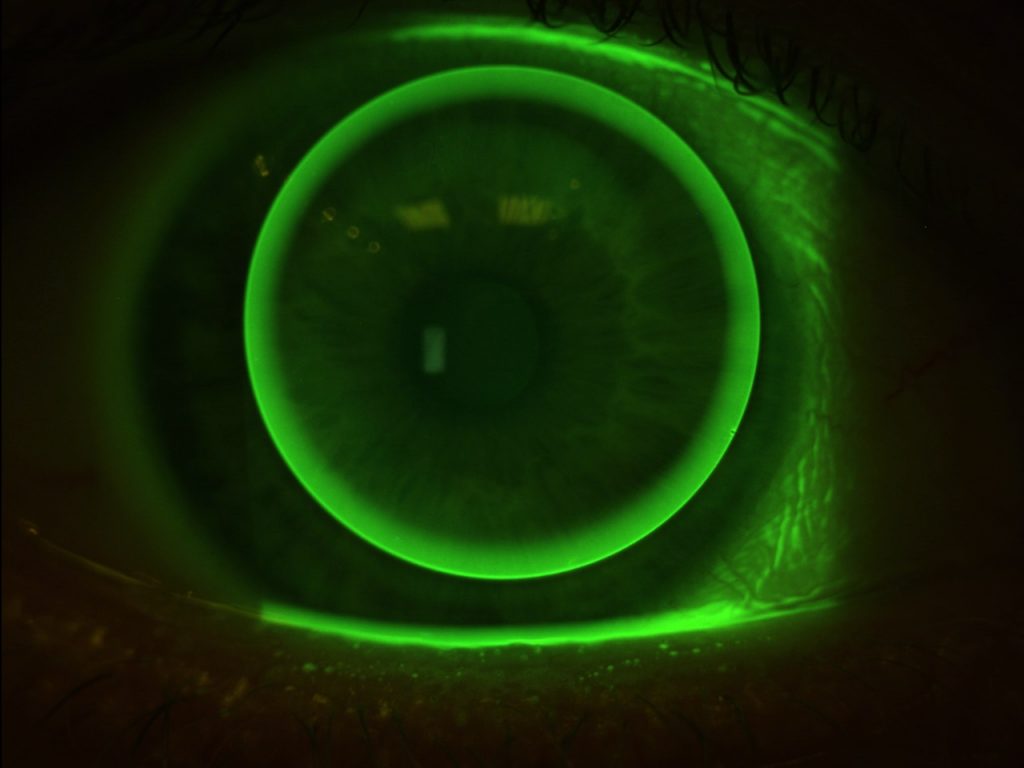 9.50 mm Diameter Lens on Eye
Viable Options
We know that ortho-k lenses are more comfortable than regular GPs. They are larger. They rest upon the mid-periphery which is less sensitive than the central cornea, they cause less lid sensation, and they move less which also reduces awareness.
Existing GP wearers who have established tolerance over the years may be happy with current designs, but if the modality is to survive we need to address the comfort issue and make modern GPs a viable option for both new wearers and the growing population of soft lens drop-outs.
There have been intra-limbal designs available from various labs over the years, but most have never enjoyed huge success. It might be that few practitioners were motivated sufficiently in order to develop the skills required to interpret a slightly different fluorescein pattern, or it might have been a lack of effort on the part of the manufacturers to sell the benefits that a larger diameter could bring.
Custom GP Lens Designs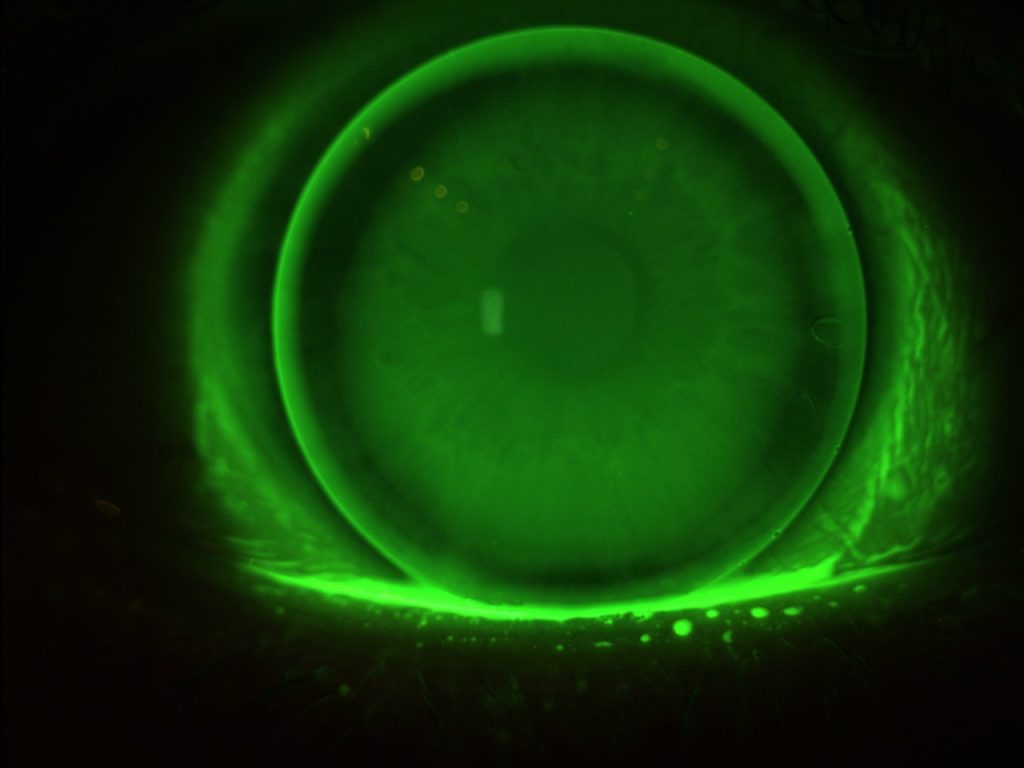 11.20 mm Diameter Lens on Eye
More recently, however, with the growing interest in ortho-k and scleral use, along with improved instrumentation such as topography and OCT, some practitioners have taken to customising their GP lens designs. One such practitioner is Hans Bleshoy from Denmark, who designs his own scleral and ortho-k lenses and has extended this practice to include regular GPs.
Rather than ignore small amounts of corneal astigmatism, Hans will design a back surface toric to eliminate any unnecessary rocking. The lens diameter is slightly smaller than HVID to allow slight movement for elimination of cellular debris, but minimising interaction with the upper lid.
Hans now says that comfort is comparable with that of a soft lens within one hour of wear, yet the vision is clearer and more stable than with even the most advanced moulded lens.
It is proving to be successful with soft lens drop-outs as well as neophytes, particularly now it is available in the Optimum Infinite material.
Fitting time is not increased. Hans has developed an algorithm that allows basic information to be loaded from the topographer and lenses ordered without the use of a fitting set. Each lens is, therefore, custom designed and the first lens that the patient experiences is optimised for both comfort and vision.
Improving Vision and Comfort
These lenses are not just used as problem solvers, it is the philosophy of the practice to attempt to improve vision and comfort at every opportunity, even if the patient might profess to be happy with their existing product. By recommending small incremental improvements in materials and design at every aftercare visit patient loyalty is improved, drop-outs are minimal and referrals are commonplace.
If you think about it, this is what optometrists have been doing for years with their spectacle patients. After each examination, the patient expects to be informed of the latest in multifocals, high-index materials, or photochromic spectacle lenses according to their needs. If this hadn't been happening patients would still all be wearing round-segment glass bifocals.
For this type of change in attitude to occur, a certain amount of education will be necessary, but it has been my experience that most practitioners are hungry for new products that offer solutions for their patients. We have seen what can happen to the marketplace in a relatively short time since the introduction of new scleral and ortho-k technologies.
---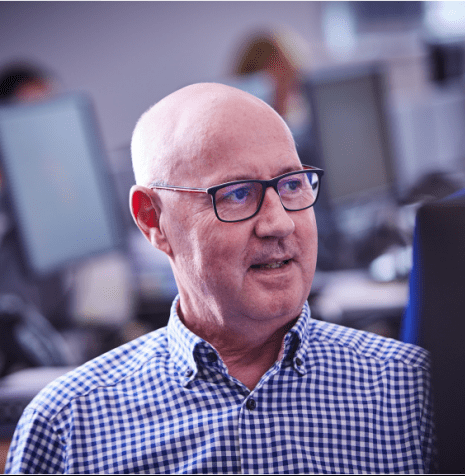 Martin Conway has over 40 years' experience in the contact lens field as a qualified Contact Lens Optician. He is registered with the UK General Optical Council on the Speciality Contact Lens Register. Martin is a fellow of the British Contact Lens Association (FBCLA), and The International Association of Contact Lens Educators (FIACLE). He has served in the Professional Services role as an educator and clinical adviser on behalf of both Sauflon and CIBA, and now acts as Professional Services Consultant for Contamac. Martin has lectured extensively in Europe, Asia, Russia, North and South America and the Middle East.