Stephen Williams PhD – Technical Director, Device R&D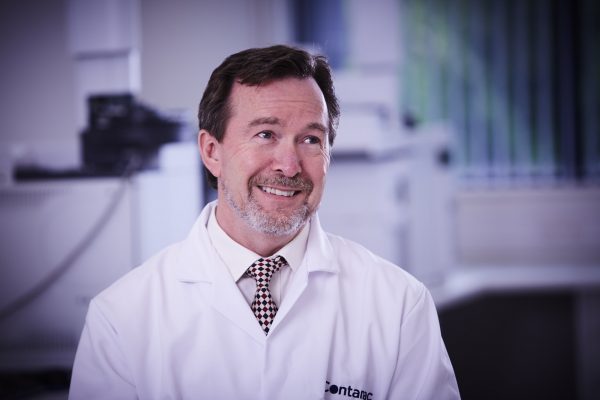 Interview with Stephen Williams Phd, Technical Director & Device R&D
Please describe your role at Contamac
As the Technical Director for the Device R&D Group, I'm responsible for all technical and quality-related aspects of the manufacture of a critical sub-assembly, part of a Class III Active Implantable Medical Device, made on behalf of a US-based client.  This essentially involves management of 12 staff members with either life-science or chemistry backgrounds, and spans core functionalities such as manufacturing, continuous process improvement, validation, quality control / analytical, metrology, materials, quality engineering and quality assurance.
What do you enjoy most about working at Contamac?
Contamac is a great place to work. As a small to medium enterprise (SME), I have had the opportunity to participate in all the key aspects of the New Product Development life cycle, from proof to concept, design of manufacturing processes and associated facilities, throughout to product launch and post-market support. I've spent the last 33 years working in the medical device industry, in a variety of roles ranging from R&D, Process/Manufacturing Engineering and Operations.  With the exception of a seven year period spent developing novel drug/device combination products based on microneedle technology, I've been developing and manufacturing In-vitro Diagnostic (IVD), Blood Glucose Monitors (BGM), or Continuous Glucose Monitors (CGM) for the whole of my industrial career.  Every company that I've worked for has been classified as an SME, so I guess it's fair to say that I really enjoy the small company environment.
Can you tell us a little bit more about this new implantable medical device?
The end product is a novel CGM, a device used by Type I diabetic patients, to track and trend their blood glucose values.  Self-monitoring of blood glucose is a critical requirement for the Type I patient, to assist with the avoidance of hypoglycaemia which can result in coma and death, and hyperglycaemia which is associated with a range of other life-altering side effects such as cardiovascular disease (heart attack, stroke and lower limb vascular disease), loss of sight due to diabetic retinopathy, renal disease and peripheral neuropathy.  This particular device is truly disruptive in nature, since it is the world's first fully-implantable CGM to be made available to the diabetic patient.
Our client's product received its CE mark in 2016 and is available in selected EU member states and is currently under review by the FDA for regulatory approval in the United States.
What is Contamac's involvement in this project?
By leveraging Contamac's expertise in biocompatible polymers, and in association with our client, we've been able to develop a functionalized hydrogel capable of changing its light emission characteristics in response to changing glucose concentrations, and then integrate it with an electronics package capable of controlling and managing data output from the hydrogel.  In Production, we not only manufacture the device, but we also measure its functional characteristics in a quality control process that assigns critical parameters required for its calibration.