Martyn Lewis – Business Development & Project Manager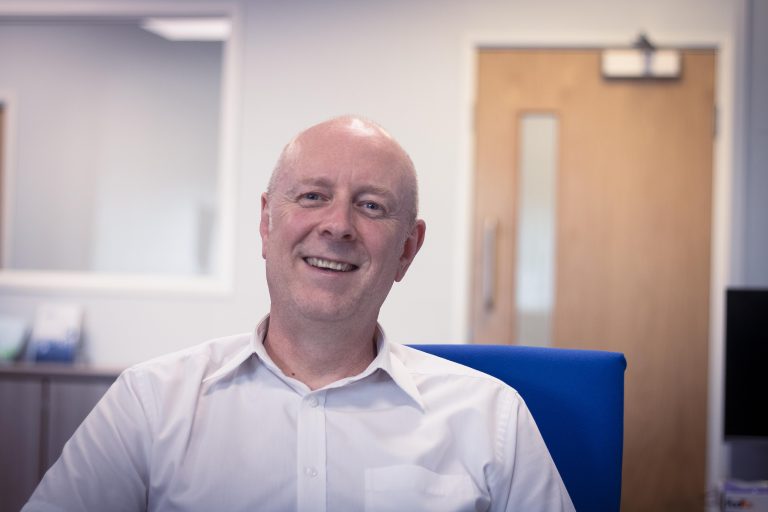 Please describe your role at Contamac:
I look after contact lens customers in North Western Europe, the East Coast of the USA and East Asia. This gives me great insight into how different markets are developing globally. I have been at Contamac a long time, and have seen many changes in the contact lens industry in that time.
Within the speciality contact lens market, lens manufacturers are competing against each other, but they must also compete against outside forces, such as laser surgery, the constant expansion of the moulded lens ranges, or drug treatments replacing contact lenses. It is my job to best equip our customers with the materials and the knowledge they need to compete and thrive in the marketplace. 
However, my role has changed quite substantially in the last few years with a new emphasis on liaison between the regulatory affairs teams of our customers, and our own technical department.
What is your professional history?
I studied foreign languages at University (French, German and Russian), and my whole professional life has involved international trade. In it, I have been lucky enough to use my languages daily. 
Coincidentally, I have also always been involved with raw materials, with about half of my professional life spent at Contamac, and the other half dealing with high purity raw materials for R&D and a broad range of high-tech industries, from medical research to satellites to military to fog machines for discos.
What do you enjoy most about working at Contamac and in our industry?
The contact lens and IOL lens industries are a small community, and although our customers all compete with each other, they come together via the CLMA, EFCLIN and other industry bodies to learn, develop and also to meet challenges as a unified body. When I joined the industry many years ago, customers rapidly became partners, and then friends. 
I am sure that everyone in the contact lens and IOL industries can relate to this. Contamac is a couple of steps removed from the patient. We make blanks, or buttons, that are sold to the lens manufacturers. They make lenses which they sell to the eye care practitioners or surgeons who put them into, or onto, an eye. At Contamac we rarely see a patient face-to-face, but I constantly remind myself that every button we make will go into, or onto, an eye, as a finished lens, and has the potential to quite literally give that person back the sight that they might have lost many years ago, and to transform their life. When I do meet a patient like this, I am humbled by the contribution made by everyone in the chain – from Contamac through to the doctor – to restoring sight to millions of people around the world. 
Can you tell us about one of the most rewarding projects you have worked on?
Tangible Hydra-PEG definitely. We worked closely with the team at Tangible Science (back then known as Ocular Dynamics) to bring this revolutionary technology to so many labs around the world. As well as the obvious benefits to the patient, this is a useful extra income stream for the many labs that have the technology.
One concern around GP lenses in particular has always been comfort, and the Tangible Hydra-PEG coating to encapsulate the whole lens was developed to directly address this. As we learn more about the causes and symptoms of dry eye, we are also learning how best to manage it, and there are a number of contact lens modalities, including scleral lenses, that alleviate some of the symptoms. Contamac saw that with chronic dry eye, the Tangible Hydra-PEG coating could really help these patients, and I am thankful to have been part of that.
How does your role support the changing regulatory landscape in the speciality contact lens industry?
With changes in the European Union from MDD to MDR, and, globally, more of our customers looking to export to territories outside their own regulatory area into an area where they have less immediate knowledge of the regulatory framework, there is a growing need for regulatory support from Contamac. My role has therefore evolved to take up this challenge. I am still part of the commercial team, but I now liaise between this team and my colleagues in the QA/RA department (which is growing at the same time to increase our support capabilities). It is only by working in close partnership with our customers that they can survive and prosper in the new regulatory landscape.
How do you predict the industry to develop over the next 10 years as a result of increased regulations?
I predict that there will be quite a slowdown in new lens developments in Europe in the next few years because of the many uncertainties surrounding MDR. Labs are quite rightly focussing on transitioning their own approval from MDD over to MDR. This is a huge amount of work, and many lens manufacturers simply do not have time to innovate as much as they used to. Once the dust settles, we will see more innovation again. In the meantime, I think we will see much more innovation in the USA.
Related at a tangent, we will also probably see more developments around corneal and scleral imaging. There have been some great new machines released recently, and I have no doubt that even better ones will follow. This will simplify and speed up scleral lens fitting in particular.
If you were shipwrecked on a deserted island, but all your human needs—such as food and water—were taken care of, what two items would you want to have with you?
The obvious one is family. Some of my family would enjoy the camping and outdoor lifestyle. Some definitely would not! So, I'm split as to whether to bring my family or leave them with their creature comforts at home!
I run a Cub Scout pack for children from 8-11 years old, so my family and I could quickly build somewhere to live, and get a fire going, but my skills don't stretch to building charging stations for tablets and mobile phones, unfortunately.
And I'd bring my Land Rover, so we could spend some time exploring every part of the island.