Martin Conway – Professional Services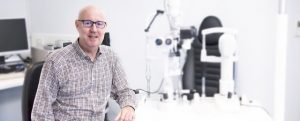 Interview with Martin Conway FBDO, FIACLE, FBCLA, Professional Services
Please describe your role at Contamac.
The Professional Services role was originally created to increase the communication between Contamac and the profession. Until that time the company was very much industry-facing and whilst it had long-standing relationships with its industry partners, it had little or no direct communication with the Eye Care Practitioners (ECPs) that actually fitted the final product on eyes. By having a qualified fitter, like myself, on board, it enabled the company to communicate directly with the fitters and receive valuable feedback from them about our products.
My role also involves forming and developing relationships with learning institutions, such as universities and professional bodies, and ensuring that the industry is represented to the profession and students alike. This might include making presentations to student bodies at industry events such as EFCLIN, NCC, GSLS and others around the globe, as well as contributing articles to trade and professional publications.
Whilst large labs may have their own professional services staff, many smaller labs do not. As a service to these labs, I provide a supporting role at trade events or seminars, that they may wish to organise for their customers. We have supported labs around Europe and the Middle East, presenting their products as well as doing fitting demonstrations and workshops.
Back in the office, we have a fully-fitted consulting room where I can fit patients, but more importantly, alongside the consultation room is a training room that can accommodate up to 50 people for training events and continuing education meetings. This is available for partner labs to use and for our own use to accommodate meetings. We have a multi-lingual team at the office, so we can offer a technical and translation service for labs who wish to enter new markets and have fitting manuals and support literature translated for their target markets.
What do you most enjoy about working at Contamac and our industry?
The specialist lens industry is totally different to the rest of the contact lens industry. Some of the people I knew 40 years ago when I first started fitting contact lenses in London are still in the industry. Many of the labs are run by generations of the same family and so the collective knowledge and experience within the industry far outweigh that which you find within the multinational moulding companies, where marketing whizz kids come and go, and could be selling dental floss next.
Contamac is a microcosm of the industry we serve. Under one roof we have R&D where raw monomers being polymerised, buttons being lathed in our technical department, through to lenses from our many partner labs, which I fit in our in-house clinic. Even though Contamac has doubled in size in the six years that I have been here, we still have a family company atmosphere and it is possible to get decisions about projects and proposals turned around quickly, and put into effect with minimum delay.
One day I could be putting on a training day for the staff of a partner lab, the next I could be fitting lenses and the following week travelling with one of the sales team to a conference somewhere across the globe. Even after forty years in the industry, there are still new developments that keep me interested and I can't imagine going back to routine practice. Although once at 2.00 am, stuck in Bogota Airport after a flight cancellation, I might have wavered slightly!
What areas are you currently occupied with?
My two major topics of interest at the moment are Myopia Control and Scleral fitting. Both modalities have been with us for many years but have recently come to prominence within the industry and profession.
Myopia Control has been achieved to a greater or lesser extent with many modalities, but the most effective to date is with the use of orthokeratology. Success rates vary between a 33% retardation to 100% control, yet the general public seems to be unaware of Ortho-K as an option, let alone its potential for the control of myopia in children. As more research takes place and more designs evolve for both myopia control, hyperopia and presbyopia, then this area should see significant growth. Once the retinal image profile for effective control has been defined, can we duplicate this in a soft/silicone lens or even a hybrid?
Scleral Lenses also feature heavily at every conference I attend, at the moment most fitting is directed towards keratoconic/irregular cornea patients, but there is already talk of extending this application to astigmatic wearers and possibly regular GP wearers. I have a feeling that this area is evolving more quickly than our skill sets and experience. With the exception of a few notable practitioners who have decades of experience, most of us are novices (including myself), with very few fits under our belts. We need to look carefully at the long-term effects of scleral wear before we start rolling these out to the general patient population. As a materials manufacturer, we need to ensure that our current materials are meeting the demands of the cornea under this changed environment. Fitting philosophies vary also. Some lens designs are subject to "fogging". Conjunctival prolapse is another complication. I think that in a very short time we will have more personalised designs, based upon scleral and limbal topography. Quadrant-specific peripheries will be the norm, allowing for more even weight distribution and stability.
As a materials manufacturer, we need to be anticipating trends and ensuring that materials evolve to meet the changing needs of these modalities.
What changes do you foresee in the marketplace?
Independent practitioners are increasingly becoming aware that speciality lens fitting is more profitable in the longer term than conventional moulded lenses, where their patients migrate to online suppliers. At the same time, they are investing in topographers and OCT as a means of improving their offer to patients. A topographer is essential for fitting Ortho-K lenses and whilst not essential, OCT makes fitting scleral lenses so much more a scientific exercise, rather than an art form. For the industry, it is essential that this message gets across to the practitioner. Those practitioners who have access to these technologies just need a little encouragement and more importantly, a little education and hand-holding through their first few fits, to recognise the value that speciality lenses can offer to their practice. I have a couple of colleagues, one in particular, whose contact lens practice has seen a significant increase in both patient footfall and profitability since they embraced this new technology. With topographers becoming more commonplace and OCT becoming more affordable, I think that the speciality eye care sector can only benefit from these advances in technology. At present Ortho-K lies mainly within the independent sector, eventually one of the major chains will recognise the huge potential of the myopia control market and the long-term patient loyalties that it can engender. It worries me that should the independents not have a firm grip on the market by then, this massive opportunity will slip past them ."