Linda Clark – Company Secretary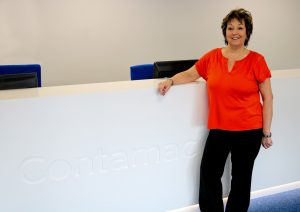 Interview with Linda Clark. Linda has been the Financial Controller of Contamac for nearly 10 years and has recently been appointed as Company Secretary.
What do you enjoy most about working at Contamac and our industry? 
Working at Contamac is a joy; the company and the people are the best I have ever worked with.  It is becoming rarer in manufacturing to find a family company like Contamac, where the ethos generated from the Board members extends throughout the company and makes for a very happy and contended workforce.  Working in the ophthalmic industry is fascinating and stimulating. Our customers only see the new products and materials we produce, but we, as part of the team, can see the incubation of new ideas, the challenges and the full process that result in a new product. To see our research chemists being excited by a new formulation is a privilege!  The medical research we also help fund, gives us a great sense of satisfaction; slowly we are helping change the eyes of the world.
Contamac has grown exponentially during the last 10 years you have worked as financial controller. How has the financial department supported this growth?
I think it is safe to say not only has the Finance Department supported the growth of Contamac it has also been instrumental in the growth.  Growth brings many challenges, it has to be controlled and managed and this has been handled by the Finance Department, closely reporting to the Board.  Managing our assets and having deep understanding of the cost structure of the company is the key to a successful growth.
What is the most challenging aspect of dealing with companies from all over the world?
One of greatest challenges is the language barrier.  Fortunately our sales team is all-multilingual and we work closely with them to ensure correct communication between us and our customers.  Without this the challenge would be almost insurmountable.  Different cultures can also create unforeseen problems, but again we take the advice for our international sales team to ensure we negate any difficulties arising from different cultures.  Exporting also creates different challenges and here, we have used our own experience to do this well and successfully. If you look at the growth in our exports we have obviously achieved this!  We are also prepared to listen to our customers should they have particular knowledge of their country's requirements and are happy to adapt our system to suit their needs.
How has the financial department been affected by the economic instability and how do you mitigate the impact on the company finances?
Most companies have been affected at some time by some form of economic instability. It is a test of the strength of the company and the finance department. If they are well prepared the effect can be minimised. Our Finance Department is proud to have accomplished this.  The fact that Contamac sell word wide to over 62 countries has helped; we have been fortunate enough to be able to mitigate the economic instability in one country with the boom in the economy of another.  We have, with the assistance of our sales team, been able to gather invaluable knowledge of customers and countries, economic issues, political issues and exchange rate difficulties, to enable us to pre-empt any potential issues and as a consequence, be able to support customers when required.
You have recently been appointed as Company Secretary and become a member of the Board. What are your new responsibilities and challenges at Contamac?
There are today many more challenges to SME's than there were when I started at Contamac 10 years ago.  Compliance issues, regulations, risk assessments among others, are now essential to the health of an SME and form part of their corporate strategy.  I will be responsible for ensuring we are compliant, that any risk to the company is identified and eliminated.  I will be involved in more depth in every department, auditing methods and systems alike.  As we have grown, our stock levels have been growing rapidly, we need to be able to meet and improve the delivery demands of our customers, the cost of this has to be managed and I will do so. Another very important matter is the continuity of our supply, essential for us and for our customers. Our continuity is theirs and as Company Secretary I will be responsible for ensuring this. It is a profound honour to be appointed Company Secretary, my thanks go to the Board of Contamac for making so many new and exciting opportunities available to me and my assurance to all our customers that I will make this appointment a result for them too, the future is great!