Use of Increased Centre Thickness SiHy Lens Design in Keratoconus
Patient: CF Male Age: 30
History: OD Keratoconus, Stromal Rings and Cross–Linking, Punctum Plug
OS Keratoconus, Stromal Rings.
The patient had been previously been fitted with RGP lenses but never achieved more than 3 hours wearing time. He is a physiotherapist and plays football semi-professionally several times a week. He could not use RGP's for his sport.
Uncorrected Vision: OD CF | OS 20/30
Spectacle Rx: R -11.25-7.25×65° | OS 0.00


Summary: The patient presented with poor tolerance to RGPs. He was initially evaluated with a soft toric which, although comfortable, gave unsatisfactory vision of just 20/100. A specialist keratoconic soft lens design with increased centre thickness improved vision to 20/80. Finally, a design from Lab Keratos which incorporates a much thicker central zone gave improved comfort along with a much-improved visual acuity of 20/25. Currently he uses the lenses for all working hours, and also for football. Despite the much increased centre thickness, after 3 years of wear no signs of injection or neovascularisation have been observed.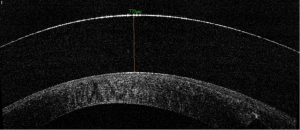 Lens Type Fitted:
OD Soft Lens for keratoconus of Lab Keratos
Material: CONTAMAC DEFINITIVE Silicone Hidrogel 74% water DK 60

This edition's case report was submitted by Isabel MacDonald, a Contact Lens Specialist from Argentina. The case describes the success of a silicone hydrogel lens with increased centre thickness made from Definitive 74 by Lab Keratos.
Isabel MacDonald.