A Fisherman's Tale – New hyper Dk material eliminates episodes of microcystic edema
By Melissa Barnett, OD, FAAO
Penetrating keratoplasty in patients with keratoconus may provide good long‐term visual rehabilitation. There is a relatively low rate of graft failure in this cohort of patients. Graft rejection has been reported to be 5.8–41% with most rejections occurring in the first 2 years. [1-5]. Irregular and high astigmatism may be common after penetrating keratoplasty and contact lens options are needed to provide optimal visual rehabilitation. In cases of graft protrusion with irregular astigmatism, visual rehabilitation options are limited.
Case description
A 60‐year-old Japanese male commercial fisherman was referred from an outside provider for a scleral lens fitting. Ocular history was significant for a corneal transplant in each eye in 2012 for keratoconus. Cataract surgery was performed in each eye in 2014. The medical history was significant for colon cancer status post-chemotherapy. Ocular history was significant for meibomian gland dysfunction and dry eyes disease. No systemic medications were taken. Prednisolone acetate 1% was used once daily in each eye. A corneal gas permeable was worn in the right eye with frequent dislodgement.
Entering vision was 20/20 OD (with a corneal gas permeable contact lens) and 20/60 OS (without correction). Pentacam of both eyes demonstrated high irregular astigmatism in both eyes. Intraocular pressure by tonopen tonometry was 16mmHg OD and 15mmHg OU. Horizontal visible iris diameter was 11.6mm OU. Slit lamp examination revealed Meibomian gland dysfunction. Significant corneal staining was present both eyes, left eye greater than the right eye. Intraocular lenses were stable in both eyes with a 2+ central posterior capsular opacity left eye. The dilated examination was unremarkable.
Management options included nightly eyelid cleaner and warm compresses daily OU using a commercial warm compress. Current topical medications including cyclosporine 0.05% bid OU were continued.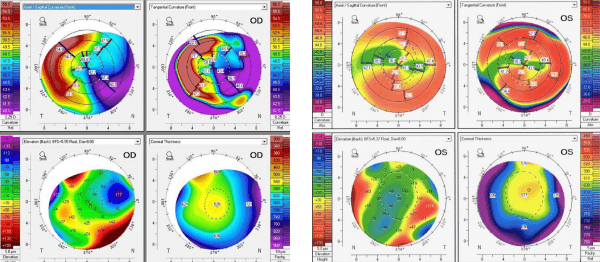 Scleral Lens Fitting
SM presented with a challenge. "If you can get me to see 20/20, I will bring you fish." A scleral lens fitting was commenced. Both 16.9mm diameter scleral lenses fit with a 141 Dk completely cleared the cornea and limbus without blanching. The patient reported excellent comfort and vision with 20/15 in the right eye and 20/15‐2 in the left eye. He gifted the most delicious sushi-grade tuna that I have ever eaten.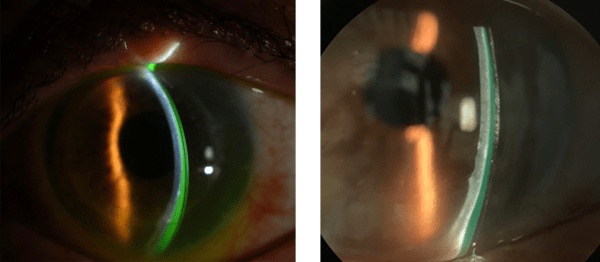 This scleral lens design was worn successfully in both eyes for four years, then episodes of microcystic edema developed in each eye. His job as a fisherman requires long hours of scleral lens wear without the option to remove and reapply lenses while fishing. The episodes of microcystic edema were successfully treated with reduced wearing time of scleral lenses and increased use of Prednisolone acetate 1%.
Once Optimum Infinite material with a Dk of 180 was introduced, new scleral lenses were fit with this innovative material. The diameter, fit and average wearing time of 16 to 18 hours per day did not change. With this new high Dk material, no episodes of microcystic edema have occurred.
An additional benefit is that over the years, I continue to receive a variety of the most delicious fish.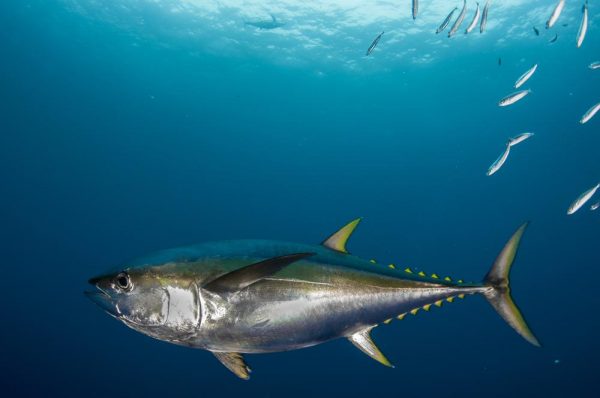 ---
1. Niziol LM, Musch DC, Gillespie BW, Marcotte LM, Sugar A. Long‐term outcomes in patients who received a corneal graft for keratoconus between 1980 and 1986. Am J Ophthalmol. 2013;155(2):213–9.
2. Fukuoka S, Honda N, Ono K, Mimura T, Usui T, Amano S. Extended long‐term results of penetrating keratoplasty for keratoconus. Cornea. 2010;29(5):528–30.
3. Choi JA, Lee MA, Kim MS. Long‐term outcomes of penetrating keratoplasty in keratoconus: analysis of the factors associated with final visual acuities. Int J Ophthalmol. 2014;7(3):517–21.
4. Buzard KA, Fundingsland BR. Fundingsland, corneal transplant for keratoconus: results in early and late disease. J Cataract Refract Surg. 1997;23(3):398–406.
5. Javadi MA, Motlagh BF, Jafarinasab MR, Rabbanikhah Z, Anissian A, Souri H, et al. Outcomes of penetrating keratoplasty in keratoconus. Cornea. 2005;24(8):941–6.
Thank you to Dr Melissa Barnett, O.D. for contributing to Global Insight.