An Interview with Sara King – ABDO Contact Lens Distance Learning Course 2018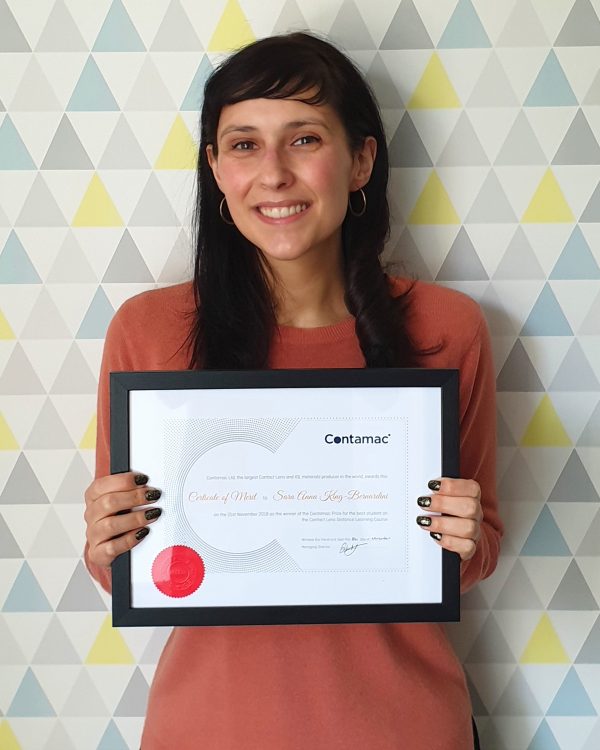 Congratulations on your Certificate of Merit for the 2018 Contact Lens Distance Learning course with ABDO. What was your background and experience prior to the course?
I started my career 10 years ago, learning the ropes as an Optical Assistant for one of the big multiple opticians. I then decided to pursue my interest in optics by training to be dispensing optician. During this time I had the opportunity to work for a fabulous boutique independent opticians. After qualifying I moved back to work with another multiple chain – training, leading and working with a talented team as a Store Manager. I'm currently a resident DO and Trainee CLO at a local independent practice with a fantastic clinical and customer focused reputation.
What made you want to embark on the CL course?
I really enjoyed the clinical and anatomy elements of the DO course and aspired to expand my knowledge into the testing room. I want to provide tailor-made advice and take on the challenge of sourcing the perfect fit, design, prescription and material of contact lens to suit my patient's needs.
What was the structure of distance learning like?
We had weekly written assignments to complete by a set deadline and send to our personal tutor. Assignments were a mix of questions on visual optics, anatomy, and contact lens practice topics. Then two weeks out the year were spent on block release learning at ABDO College. This provided a great chance to meet other students and have face to face learning with ABDO lecturers. We then sat three written theory exams. During this time students were also encouraged to build up our practical experience with patients, under our practice supervisors. Before sitting the practical exam, students are required to complete a set number of supervised tasks and hours, alongside compiling a comprehensive portfolio of case studies.
What was one of the most valuable things you learnt from the course?
Understanding that every patient is different – taking the time to listen to their individual contact lens fitting history, needs, and requirements. I also found it invaluable to be able to ask questions and get answers from my highly experienced colleagues.
What was the biggest challenge?
Managing my study time alongside my duties as a full-time Store Manager. You have to be very self-disciplined, focused and motivated to complete all the assignments on time.
What are you currently doing since the course ended?
After completing the assignments and first written exams I started a new job working for a local independent practice that specialises in complex contact lens fittings (RGPS, Scleral, Orthokeratology and Myopia Control). I am currently building up my practical experience under supervision and creating my case record portfolio, ready to sit my practical exam.
If you had one piece of advice for peers interested in specialising in contact lenses, what would it be?
Make use of all the knowledge and experience your optical colleagues have! ABDO lectures, your personal ABDO tutor and practice supervisor are all there to help you succeed. I also found all the contact lens companies provide great student resources – training days, laboratory visits and product guides. We also had a brilliant student WhatsApp group for everyone on the course that year. This helped us support each other through the assignments and exams.