10 Things I Wish I Knew Before Graduating Optometry School
10 Cosas Que Me Hubiera Gustado Saber Antes de Graduarme de la Facultad
When we get out of university, we have the whole world ahead of us. We want to work 7 days a week, do everything and save the world. Similar to everything in life, there are going to be a few bumps in the road. Here are 10 things I wish I knew before graduating Optometry school.  
Cuando salimos de la Facultad, tenemos todo un mundo por delante. Queremos trabajar los 7 días de la semana, hacer de todo y salvar el mundo. Como todo en la vida, siempre va a haber piedritas en el camino. Te colaboro con algunas cositas que me hubiera gustado saber antes de graduarme de la facultad de optometría.
1. In order to be successful in a practice, you have to have a basic knowledge of business.
We serve a dual function. We provide health services and also sell ophthalmic materials, therefore, understanding how a business runs is mandatory. Sadly, at school, we do not get the necessary instruction in this matter.
1. Para ser exitoso en este rubro, hay que conocer de negocios.
Nosotros tenemos una función dual. Proveemos servicios de salud y también vendemos materiales, por tanto, el conocimiento de como llevar un negocio es importante. Lamentablemente en la facultad no estudias negocios.
2. There are different work modalities and each one of them has their pros and cons.
We may start our own clinic or work within an optical chain, even in a multidisciplinary office. Each of these modalities has its own particularities. You should get to know them before committing to any one of them.
2. Existen diferentes modalidades de trabajo y cada una de ellas tiene sus pros y sus contras.
Podemos trabajar por cuenta propia, para cadenas y en oficinas interdisciplinarias. Cada una de estas modalidades tiene una manera de ser y a veces somos mas compatibles con una modalidad u otra.
3. If you have set your eyes on a specialty, do it ASAP.
If you want to specialize, the sooner the better. To study after years of graduating is more difficult.
3. Si va a hacer especialización, hágala tan pronto se gradúe.
Las especializaciones son mas fáciles cuando estamos recién graduados. Mientras mas tarde, mas difícil.
4. Our work week is not traditional.
If you are a Monday to Friday and 9 to 5 guy or gal be careful. Depending on the work modality that you choose, you may find yourself working "odd" hours or even Saturday and Sunday.
4. Nuestra semana de trabajo no es la tradicional.
Si usted es una persona de lunes a viernes con sábados y domingos libres, pues piénselo bien.
5. A specialty makes the difference.
Technology has changed the way we practice. Nowadays some instruments are able to do things that we use to do. If you want to be on top of the pack or even to stay relevant in the next one or two decades, you HAVE to specialize.
5. La especialización hace la diferencia.
La tecnología esta muy avanzada y las maquinas ya pueden hacer parte de nuestro trabajo. Para sobresalir hay que especializarse, es mas yo diría que de aquí a una década para ser relevantes habría que especializarse.
6. Make sure you always take care of the chief complaint of the patient.
You may be the best clinician, find and resolve twenty problems, but if you do not solve the chief complaint, the patient will not be happy.
6. Tenemos que asegurarnos de atender la queja principal del paciente.
Usted puede ser el mejor, encontrar y resolver veinte problemas, pero si no resuelve la queja principal, el paciente no estará satisfecho con su trabajo.
7. Services are as important as the materials that we provide, they should not be free of charge.
Time is money. The practice of bundling services and materials is outdated. Internet sales are becoming the new norm, and believe me; you will lose sales to the internet. Therefore, if you want to survive, you have to charge or bill for your services.
7. Los servicios son tan o mas importantes que los materiales que proveemos, estos no deben ser regalados.
El tiempo es oro. La practica que consiste en facturar los servicios dentro del precio de los materiales es cada vez mas obsoleta. En el presente y en el futuro, cada vez mas los pacientes querrán comprar sus espejuelos y lentes de contacto por internet. ¿Entonces como vamos a generar dinero?
8. An excellent patient history saves you a lot of time.
Sometimes we put emphasis on the tests and forgot about the patients' complaints. If you become a good listener, you will be an excellent clinician.
8. Un buen historial clínico te lleva al éxito.
Muchas veces ponemos demasiado énfasis en las pruebas y no escuchamos al paciente. Al escuchar al paciente y hacer las preguntas adecuadas, tenemos ya casi la batalla gana.
9. The goal is not always 20/20.
At university, the doctrine is to get perfect visual acuity, the 20/20. This is not bad because after all, the patients' vision is our obsession. But, sometimes even with a really good, visual system patients are not able to see 20/20. Let's look for the 20/happy.
9. La meta no es siempre 20/20.
En la facultad nos hacen buscar siempre una visión perfecta, esto no es del todo alocado, después de todo, la visión es nuestra obsesión. Pero tenemos que entender que muchas veces, aunque todo el sistema este perfecto, es imposible para algunos pacientes ver 20/20. Debemos buscar el 20/feliz.
10. Academia is important.
Even if you do not want to become a speaker, professor or researcher, you must keep up to date in this profession. Every day new things are discovered in health allied sciences, if you are not on top of the information, you will be obsolete.
10. La academia es importante.
Aunque no queramos ser conferencistas, profesores o investigadores, debemos estudiar y mantenernos informados de lo ultimo en nuestra profesión. Las ciencias aliadas a la salud visual son dinámicas, la inercia te lleva a ser obsoleto.
Thank you to Edgar Dávila García, OD for contributing to Global Insight.
Gracias a Edgar Dávila García, OD por su contribución en Global Insight.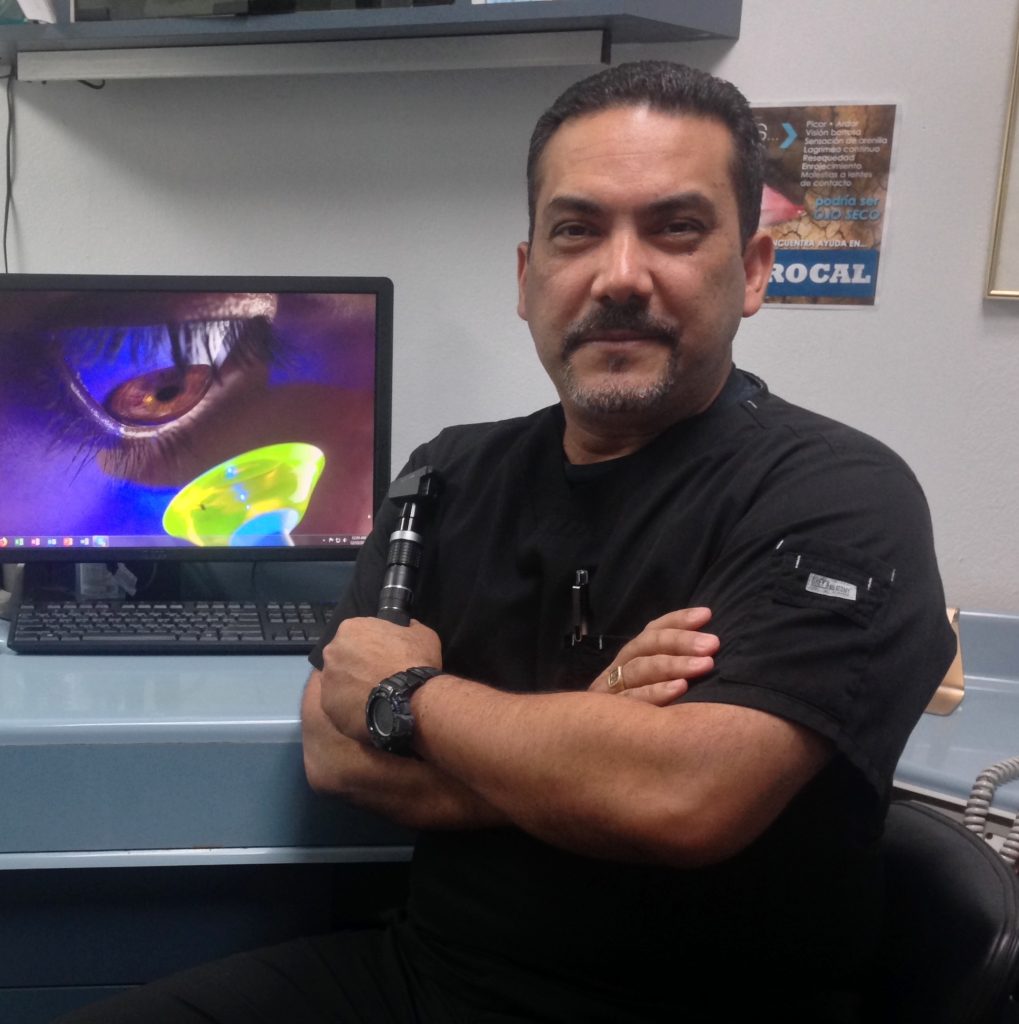 Edgar Dávila García graduado de la Escuela de Optometría de la Universidad Inter Americana de Puerto Rico en el 1996. Diplomado de la "Junta Nacional de Optómetras de los Estados Unidos" y con licencia para practicar la Optometría en Puerto Rico y en el estado de Texas EE. UU. El Dr. Dávila-García mantiene una práctica profesional especializada en lentes de contacto y tecnologías refractivas.