A Look at Custom Contact Lenses in the Film Industry
It's a Wrap!
By Karen Hughes, FBDO CL
From the minute eye care professionals start studying, they are taught about the general public and how to deal with them, the thought of fitting famous people with contact lenses probably doesn't even cross their minds. After all, to start off with it's scary enough fitting one of your fellow students! Then as time passes and confidence grows, exams are passed and qualifications are gained, so when Tom Hardy walks into your practice you don't feel like running a mile!
For a lot of eye care professionals, everyday practice means fitting disposable one fit lenses, and not usually for famous actors; but are these disposable fits very rewarding or challenging? At Cantor & Nissel we are educating people all the time that there is more to contact lenses than meets the eye.
The variety of lens types available is vast, from rigid lenses, to soft lenses; lenses with high powers, high cyls, or large diameters; tinted lenses, cosmetic lenses, and prosthetic lenses; you name it we can usually make it, regardless of your age, profession or even species (we also make lenses for animals!)
SFX lenses are a side to contact lens practice that isn't usually thought about.  When you were sitting on the sofa on that Monday night a few months ago about to lock into Game of Thrones, were you thinking about contact lenses? When you saw the White Walkers or the Night King invade your screen, or even – spoiler alert – seeing Ayra Stark blind and begging on the streets, were you thinking about the contact lenses they were wearing? Who made them? Who painted them? Or who fitted them? Did you think about it when you saw the return of Alfie Solomon? Would those scenes have captivated the audience as much if the characters were left with their natural eyes showing? They definitely wouldn't have been as realistic. Even if standard coloured lenses had been used, the scenes would not have been as jaw-dropping. The attention to detail on SFX lenses is phenomenal, each individual stroke of paint makes the character come to life and enhances their screen presence.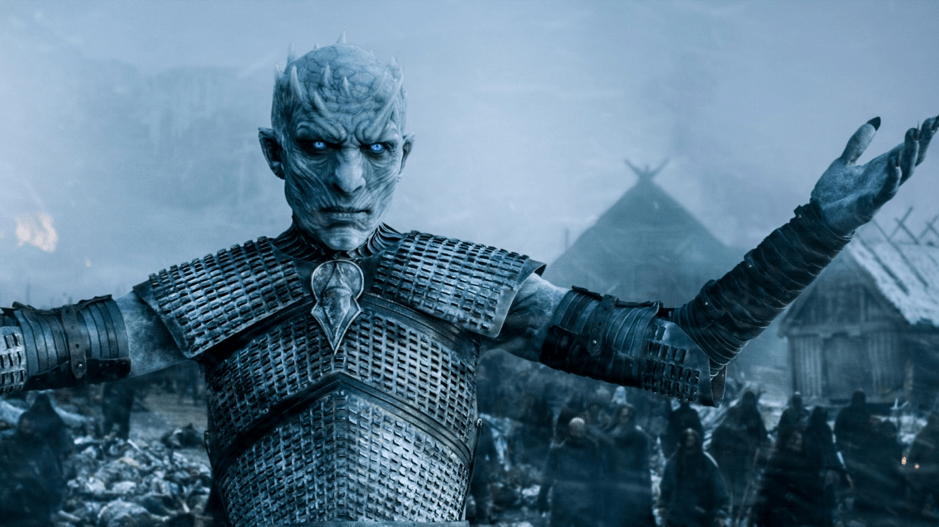 Big confession though, I've never seen Game of Thrones or Peaky Blinders, but I have seen the amazing lenses used, the talented artists who paint them, and I have met the qualified optometrists who fitted them.
Cantor & Nissel have been providing contact lenses to eye care professionals for use in the TV, Film & Make-Up industry for over 29 years. It's hard to believe that these little character-defining lenses start off at Contamac as rods of hydrophilic plastic, which are then cut into buttons and sent to us in Brackley, where they are lathe-cut on Optoform machines to produce the required base curve, power and diameter. This allows potentially millions of parameter options to be manufactured in order to provide the perfect fitting lens for the patients or actors. This is something that is rarely achieved by fitting "off the peg" moulded lenses, better yet, supporting the visual impact of a scene.
The lens is then hydrated before the final part of the magic happens. Painting lenses is a skill that is truly difficult to teach – it is a talent that very few artists will have. Our artists use FDA and CE approved reactive pigment dyes to add the fine details to these lenses, the skill lies in knowing how much to paint onto the lens as this cannot be seen on the lens until the pigment dye is activated. To make life really tricky for the artists, the pigment dyes aren't always what they seem, for example, blue pigment dye looks yellow in the bottle!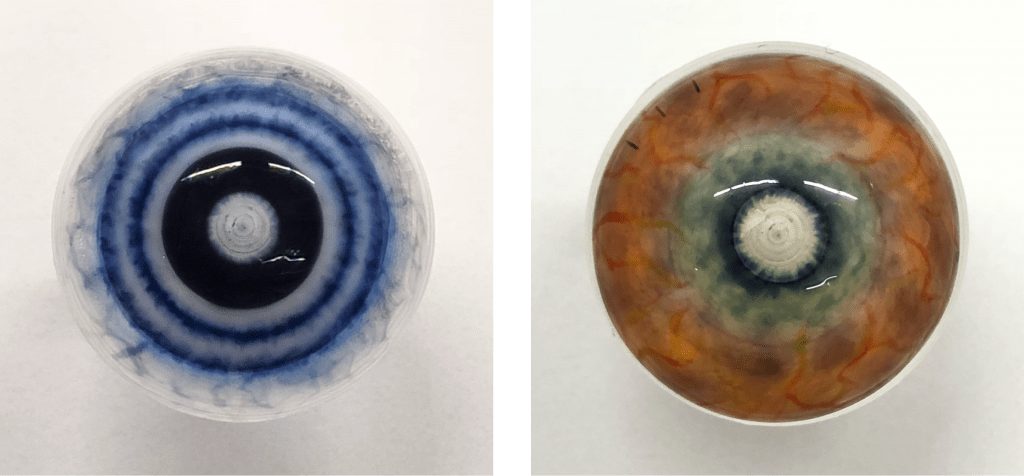 We pride ourselves on only supplying contact lenses to registered eye care professionals, our lenses cannot be purchased by members of the public anywhere around the world. The eye care professional would have checked the health of the eye, taken the necessary measurements, assessed the fit of trial lenses before ordering the final masterpiece when the fit of the lens is once again checked. The eye care professional will then work alongside the make-up/prosthetic artist and will carefully insert the lenses at the last minute possible as to avoid disturbing any prosthetics in place. They will be on set throughout filming so they are able to monitor the ocular health and safely remove the lenses at the end of the shoot, this is not a service you get with shop-bought lenses.  Although, at a glance, the tailor-made option may seem more expensive, the superior quality, outstanding artwork, professional service and overall safety of the patient's eyes make the Nissel Custom lenses a far more cost-effective purchase.
Our SFX lenses help films become a Wrap: they can enhance a make-up or prosthetic masterpiece designed to frighten you, but they can also be used to change the appearance of an actor to make them more like their character. Take Gemma Atherton for example, she has brown eyes which were transformed to blue for her role as Marilyn Monroe, or Hugh Grant as Jeremy Thorpe in A Very English Scandal where we made his eyes brown. And we even gave Tom Hanks a sub-conjunctival haemorrhage for his role in Inferno.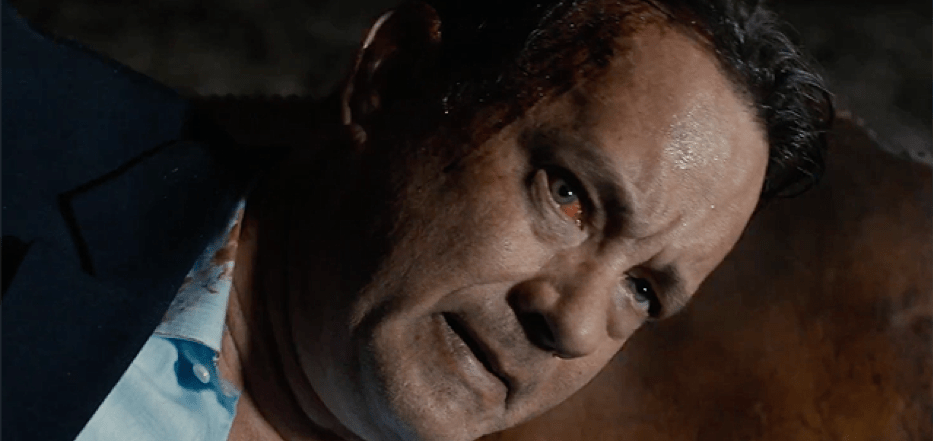 Any contact lens wearer should be fitted with the best materials available for their eyes.  All of Cantor & Nissel's lenses are tailor-made and lathe-cut out of Contamac materials, which offer high oxygen permeability and outstanding comfort, which is particularly important for actors who may not be used to wearing lenses. Extended hours on set, often with prosthetics in place mean that the lenses are inserted and left for hours in situ, so only the highest quality of lenses will suffice. Off the shelf lenses are sometimes used by make-up artists in a bid to improve their client's looks, these are often only available in one fit, not only geometrically but also cosmetically as the pupil and iris diameters are fixed and will not be suitable for everyone. If they are not fitting correctly, they can be detrimental to the client's eye health as well as the overall image. Using contact lenses from unregulated websites may increase the risk of eye infections, corneal ulcers, abrasions and even loss of vision, this can be due to the poor fit or the fact they may not be sterile.
It is important that you know the lenses being fitted are sterile and FDA/CE approved as well as having been cytotoxicity and toxicity tested. All of this information will be available from the manufacturer, which is why it is important to know where the lenses are from. This information is not usually available for online or fancy dress shop-bought lenses.
Garth Barnard – our Managing Director – along with Teresa Cataldo – our Nissel Custom Lens Manager – often attend Prosthetic or SFX Make-Up events educating the artists about the importance of using high-quality sterile lenses, and qualified eye care professionals to fit them. They have also started visiting students on make-up courses to get the message to the artists at the start of their career. Eye care professionals are fully insured with their own professional indemnity insurance and will adhere to the General Optical Council (UK) or the FDA and The Federal Trade Commission (USA) regulations on the supply and fitting of contact lenses.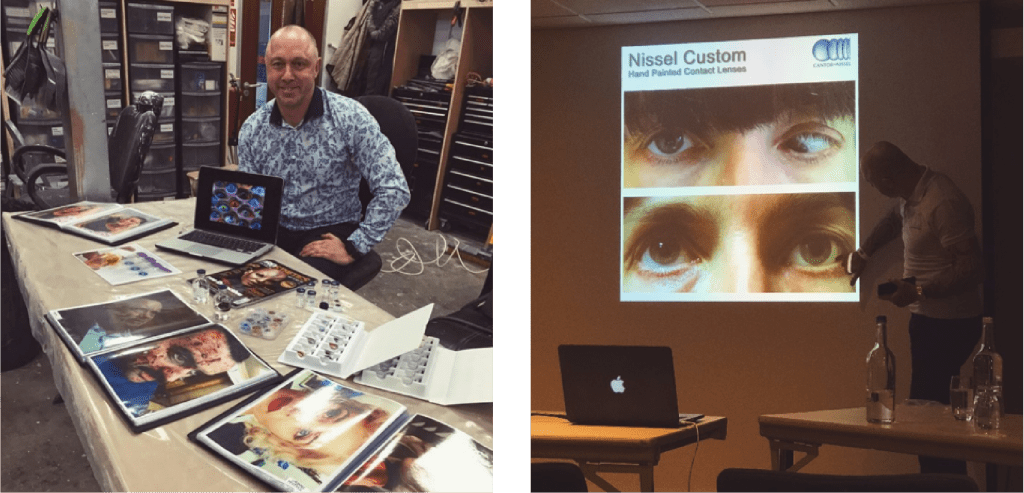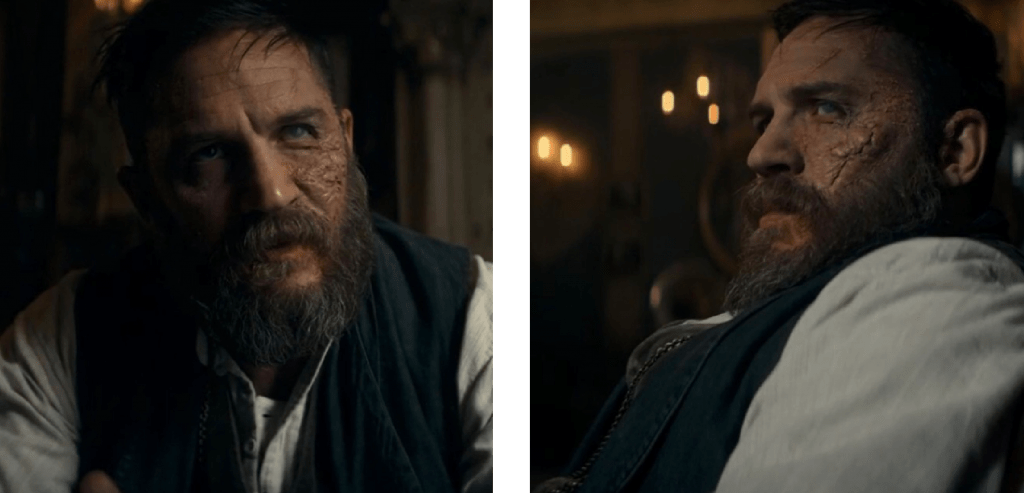 Discover the amazing world and detail of SFX and custom contact lenses over on our Instagram @cantornissel and Facebook Page Cantor and Nissel Ltd. Even if you aren't a Tom Hardy fan, there is something for everyone to enjoy.
Thank you to Karen Hughes, FBDO for contributing to Global Insight.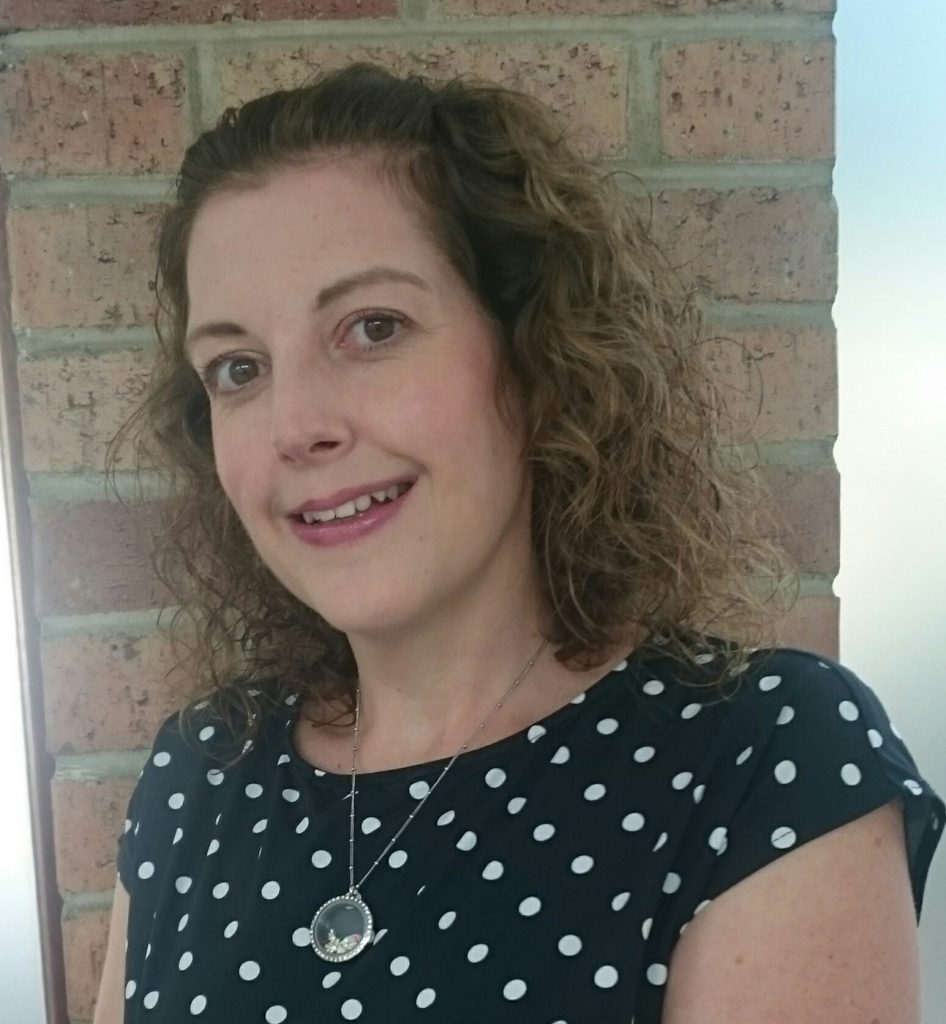 Karen Hughes qualified as a Contact Lens Optician in 2000, she worked in both independent and multiple practices before joining specialist contact lens manufacturers Cantor and Nissel Ltd as Professional Service Manager in 2007.